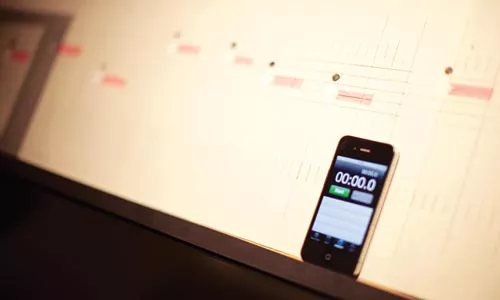 Audio Space, a two-work exhibition at Wood Street Galleries, defies visitors' traditional expectations: There is little, if any, visual stimulation. The show focuses instead on sound and the conceptual experiences that develop from contact with the auditory intangible.
This is particularly true of David Rokeby's "Dark Matter," a ballroom-sized space lit entirely by two dim black lights. The darkness initially has a disorienting opacity, lacking even the familiar hum of fluorescent lights. This intense nothingness pulls viewers in like the hypothetical gravitational force its title alludes to.
Yet thanks to motion detectors, continued viewer movement ignites a riot of sound. The deafening noise of ripping fabric transforms into breaking glass and finally into metal drums rolling on pavement. The sound pattern changes, becomes an entity itself, magnified by the human imagination confronted by darkness. All these sounds of destruction, activated by visitor motion, suggest a potent metaphor concerning humanity's impact on the environment: As we move, we devastate.
However, to ascribe a single, specific meaning to Rokeby's work would be precipitate, since this would seem to invalidate other potential interpretations. In his 1998 essay "The Construction of Experience," Rokeby writes, "If culture, in the context of interactive media, becomes something we 'do,' it's the interface that defines how we do it and how the 'doing' feels." Awareness of how our experiences are framed for us is crucial to knowing what those experiences mean.
While Rokeby creates environments for distinct experience, Jem Finer offers an attempt to achieve unity, even a textured constancy, over distance and time. For Audio Space, Finer has constructed a temporary listening post for his work "Longplayer," whose score-cycle is designed to last 1,000 years. It will play, without cessation or sequence repetition, until 2999.
Finer, a founding member of Irish folk-punk band The Pogues, conceived of "Longplayer" in the 1990s, in response to pre-millennial angst. Brought to fruition in 2000 (on commission from London-based Artangel), it is driven by musical scoring that reveals Finer's computer-science background and competence with algorithms.
The work's heart is the vast, mathematically spaced resonances produced by Tibetan "singing bowls," standing brass bells shaped to achieve specific frequencies when struck. When possible, these bells appear in live-play installations involving 6 to 12 orchestral musicians, performing Finer's score. A side gallery features a lapse-time video of the 1,000-minute Roundhouse Theater London performance, given in September 2009 to mark the work's 10th anniversary.
This bird's-eye view of "Longplayer," both in the video and on the annotated diagrams lining Wood Street's walls, reveals that Finer has found inspiration in his position as artist-in-residence at Oxford's Department of Astrophysics. The London stage set's six concentric circles, the widest of which is 65 feet in diameter, resembles the simplified diagram of an atom, or a two-dimensional representation of a planet and the paths of its circling moons.
Besides Wood Street's temporary installation, realized through the efforts of local journalist (and occasional CP contributor) Justin Hopper and Wood Street curator Murray Horne, permanent "Longplayer" listening posts include the lighthouse at London's Trinity Buoy Wharf; Egypt's Alexandrian Library; and the Powerhouse Theatre in Brisbane, Australia. And here enters the concept of unity: A listener in Egypt will hear the same notes as a listener in Pittsburgh. Moreover, this listening-post experience remains the one constant in environments that, even over the past decade, have changed socially, politically and topographically.
Both "Dark Matter" and "Longplayer" -- which hosted the Oct. 1 premiere of Finer's musical arrangement "Shortplayer," performed by local musicians -- explore a sense largely unacknowledged by conventional art experience. Both concern themselves with the fleeting and insubstantial and with sound, as it plumbs speculative depths. And while Audio Space favors the ears over the eyes, it is the mind that benefits most from all the beautiful theoretical potential.
Audio Space continues through Dec. 31. Wood Street Galleries, 601 Wood St., Downtown. 412-471-5605 or www.woodstreetgalleries.org