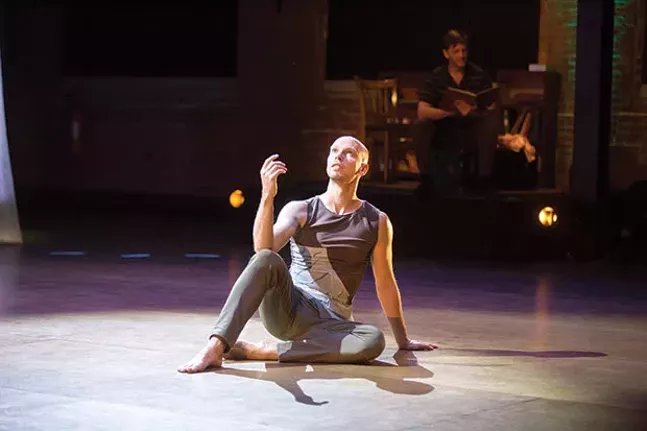 Imagine a dance performance where you choose what you will see. Now imagine your choices give you an experience that somehow colors your perceptions of the dance performance differently than many of your fellow audience members report experiencing. This intriguing scenario is at the center of If | Maybe | Then, the latest brainchild of outside-the-box-thinkers Attack Theatre.
The 90-minute, interactive-media production, going on April 12-29, blends video-projection mapping and motion-tracker technologies, with a bit of willful psychology to both dazzle and bemuse audiences, as they consider the motivations behind a group of fictitious time-traveling strangers who perform for them.
The idea for If | Maybe | Then came some three years ago, says Attack company dancer Dane Toney who, for this project, is taking on the role of video artist/technician. Toney, an artist-in-residence at the Carnegie Mellon University Frank-Ratchye STUDIO for Creative Inquiry, says he was approached by Attack co-founder Michele de la Reza to take the lead in creating an interactive-media work for the company.
The result is a new site-specific work, choreographed by the company, directed by de la Reza and co-artistic director Peter Kope, and staged in a 35,000-square-foot former Office Depot in Homestead. Within it, Attack's four dancers (plus cameos by its directors) will perform eight unique, character-driven, mature-themed vignettes, broken up into six 10-minute solos in intimate chambers, and two 20-minute group dances in a larger space.
A main goal of the work, says Kope, was to maintain the collective viewing experience by not incorporating technology that would require audience members to wear special headgear. "We wanted a large-group viewing experience that would be individual as well as collective," says Kope.
Each of If | Maybe | Then's 14 performances will be limited to an audience size of up to 60, that will be split up into two groups of 30. Viewers will travel within the space to experience the differing vignettes. Through the use of tracking software, says Toney, the dancers in each vignette will interact with animations such as falling letters, words and fireballs. Add to that, an eclectic sound score by Brazilian conductor and composer Flávio Chamis, creative scenic design by Britton Mauk and, says Kope, "some amazing things done with a tablecloth," and you have an Attack Theatre show unlike any other.