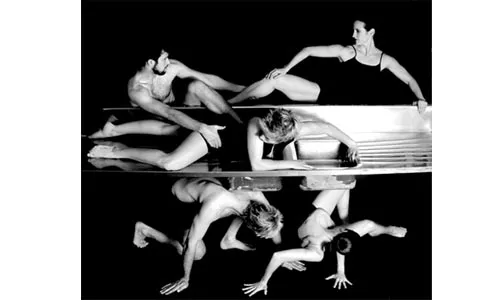 In Attack Theatre's Garfield studio, four dancers join briefly in a synchronized step. One of them, Angela Essler, breaks away holding a notebook. Michele de la Reza and Jeff Davis team for a brief, vibrant duet; as it ends, Essler abandons the notebook to Davis. While he sets to slowly tearing it apart, she sits to watch a tender passage danced by de la Reza with Kristen McClintock-LeBeau.
At a break, Essler approaches Peter Kope, who's directing the rehearsal. Regarding the last scene, she asks him, "Should I just sit there? 'Cause I'm not doing anything."
"It's one of your stories that you're seeing," Kope tells her. "It's one of your memories. ... He's your past and this is your future. This is where you are now."
The passage is an excerpt from Attack's 2003 original No-to: memory fades, and part of The Kitchen Sink, the 10th-anniversary show for the troupe Kope and de la Reza founded after leaving Dance Alloy. They've since performed around the world, and in Pittsburgh specialized in original full-length shows, site-specific works and dances based on audience feedback. Meanwhile, they've also worked with everyone from the Pittsburgh Opera and the Pittsburgh Symphony to Squonk Opera.
Sink, running Nov. 10-14, is Attack's first retrospective. Act I features short works and excerpts dating to "The Embrace" (1996), inspired by the sculptures of Rodin, and Typeset, 1998's "film noir" dance with dueling old-school typewriters. Act II includes a long excerpt from 2005's The Fitting Room. But it's highlighted by the premiere of "Ralph," a tribute to Kope's father, who died this past summer. "Ralph" features Davis, nine supporting dancers, an original score by Attack music director Dave Eggar, and a salvaged, 9-foot-long stainless steel sink on wheels.
The venue for Sink is the recently reopened New Hazlett Theater. Attack Theatre frequently performed there in the past, and Kope and de la Reza were heavily involved in planning the venerable North Side theater's renovation.
"It feels like coming home in a lot of ways," says de la Reza.
"To a remodeled house," says Kope.
In the Hazlett's lobby, audience members can test The Alphabet Project, a new experimental interactive venture for which Attack videotaped a discrete movement phrase corresponding to each letter of the alphabet. Software lets participants create a short dance film by typing in a word.
As with developing Alphabet -- or mounting Sink with collaborators doing video and music, and the show's uncharacteristically large cast of 13 -- revisiting Attack Theatre's past has been "energizing," says de la Reza. "It's helped Peter and I see, 'OK, this is where the next 10 years can go.'"
As rehearsal continues, Kope, still tinkering with No-to, suggests how de la Reza, Essler and McClintock-LeBeau should exit the stage. "From here, everyone takes their own journey and continues off," he says. "You don't have to keep doing that same step."
Attack Theatre presents The Kitchen Sink Fri., Nov. 10-Tue., Nov. 14. New Hazlett Theater, 6 Allegheny Square, North Side. $18 ($25 at the door; $15 students/seniors) All tickets to the Mon., Nov. 13, show are $10. 412-394-3353 or www.proartstickets.org
Life Masks
In 2003, while visiting Argentina, Melanie Dreyer saw a stage production in which one character, a little boy, was portrayed by a puppet. She found the characterization deeply moving. "There's something about puppets that allows you to have a kind of emotional connection that isn't possible if it's an actor doing it," says Dreyer, who teaches theater at the University of Pittsburgh.
Puppets returned to her mind when Dreyer chose Historias para ser contadas ("Little Stories to Be Told") for Pitt Rep's season. The 1957 work by Argentine playwright Osvaldo Dragún is an outrageous comedy about poverty, oppression, disease and joblessness. For the production, Dreyer recruited artist and fellow Pitt instructor Tavia LaFollette, whose puppet work she'd long admired. LaFollette suggested another twist: putting the student actors in masks. The idea was to summon the irreverent spirit of commedia dell'arte, the classic Italian comedy style using stock (and masked) characters in topical plots.
Retitled A Toothache & A Plague & A Dog, the show runs Nov. 8-19. It's staged in Pitt's intimate, subterranean Studio Theatre, remade as a debris-strewn shantytown. The audience will be segregated into first-class and hoi polloi seating, with treatment by staff to match.
Dragún's stories concern a street vendor with a tooth abscess that keeps him from hawking his wares, but which he can't afford to treat; a man desperate to provide for his family who inadvertently causes a plague in Africa by selling canned rat meat; and a jobless factory worker who finds employment as a rich man's guard dog.
The vendor is embodied by LaFollette's life-sized rod puppet, his head a melon supported by the right hand of the actor who gives him voice. Another puppet is a hydra-headed corporate board of directors, done in papier-mâché in the expressionistic style familiar from LaFollette's work at her Artists Upstairs gallery and elsewhere. There's also a hydraulic lift, and a squadron of remote-controlled toy rats with blinking red eyes.
Dreyer, whose recent directing credits include Brecht's Mother Courage at Pitt Rep, appreciates the Brechtian distancing in Toothache -- the constant reminders to the audience that it's watching a play. The masks contribute to that effect, besides requiring her young actors to refine their body language. "A mask is a very personal thing to an actor," she adds.
During a recent dress rehearsal, at the point in the first story where the vendor has fallen very ill, the actor has the vendor-puppet address the audience directly. "When I die, you'll lose a piece of yourself," the actor laments from behind his mask. "Can't you see yourself in my face?" Then the vendor dies, and his head is eaten.
A Toothache & A Plague & A Dog Nov. 8-19. Studio Theatre (Cathedral of Learning basement), Forbes Avenue at Bigelow Boulevard, Oakland. $19 ($15 seniors, $10 students). 412-624-PLAY or www.play.pitt.edu