For Mekenzie Jackson, Stevie Nicks is more than her spirit animal. Stevie Nicks is her identity.
When not fronting Atlanta's Ex Wives — a twangy shoegaze band with a washed-out '70s vibe — Jackson performs as Nicks in the Fleetwood Mac tribute act Rumours.
"There's a confidence that comes along with performing as Stevie Nicks," says Jackson. "And I think it's because I'm hiding behind a character. I can play this game, play dress-up, and I don't have to be myself all the way through."
Rumours was formed in the summer of 2014 when Jackson, a longtime Mac fan, and her Ex Wives bandmate Alex Thrift joked about doing an acoustic set of Fleetwood Mac covers at a local bar. The idea turned into a legit tribute act. "Then it just blew up," says Jackson.
Rumours plays at least a show or two each week, with touring taking the members increasingly farther away from their Atlanta home base. The Sat., March 5, concert at Pittsburgh's Altar Bar comes a day after they'll play Daryl Hall's Daryl's House venue in New York — an apt fit, as Jackson and Thrift once considered forming a Hall & Oates tribute act.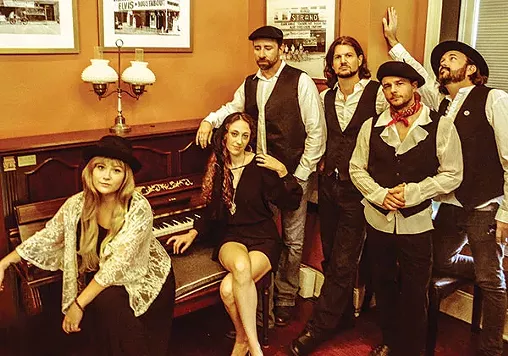 "I've done other tribute acts in the past," says Thrift, who performs as Lindsey Buckingham. "The most successful ones are able to make people feel like they're back in 1977. The whole concept for me is, 'How do I get people to feel like they're seeing the real thing 35 years ago?'"
Wardrobe plays a big role, of course, as does body language. For Jackson, the top hat is the heart and soul of Stevie Nicks. But it goes beyond that. Rumours' drummer studied Mick Fleetwood's light kick-drum technique, and the keyboard player perfected Christine McVie's "weird little twitches."
Jackson and Thrift know that much of Rumours' success is due to the recent Fleetwood Mac resurgence. Jackson attributes this newfound popularity to Stevie Nicks' stint on American Horror Story: Coven; pop band Haim's due diligence to its obvious muse; and the emotional connection women in particular feel to Nicks' lasting brand of mystical femininity. There was also the 2012 tribute album that included Lykke Li, Best Coast, Tame Impala and Bonnie "Prince" Billy, and Gwyneth Paltrow's sweet performance on Glee of "Landslide," a song that will forever serve as a human litmus test. When listening to "Landslide," do you cry? If not, why not? Are you a robot? You're probably a robot.
Thrift, meanwhile, takes the rock-ist dude route to Fleetwood Mac's comeback ("I know I sound like an old guy"), explaining that "music was just better in the '70s and '80s, and young people are realizing that. There was something about that period. Maybe there was more to write about back then, and now everything has been done."
Rumours' two-hour setlist pulls from Fleetwood Mac staples like "Landslide," "The Chain," "Little Lies," "Rhiannon" and "Say You Love Me," and rotates in surprises like "Leather and Lace," Nicks' 1981 duet with Don Henley. "We base our setlist around what Fleetwood Mac is doing," says Jackson, who has seen Fleetwood Mac live "about seven times," including her first show, 1997's "The Dance" tour, when she was 10 years old.
So does playing in a Fleetwood Mac tribute act — always a "tribute act"; never a "cover band" — affect the music that Jackson and Thrift create as Ex Wives?
"What goes in your ears comes out your hands and your mouth," says Thrift. "Through osmosis or something, you absorb those songs so much you end up subconsciously sounding similar."
Jackson agrees. "What's interesting is that tribute-ing Fleetwood Mac has almost made us better musicians in our original project."
For Thrift, it feels "harder to do 'Mac' than original stuff."
"It's easier to be yourself than someone else," I say to him.
But when Jackson says there's something, well, effortless and empowering about performing as Stevie Nicks, I find myself agreeing that it's easier to pretend to be someone else than to be yourself.
A few Halloweens ago, I showed up at a house party dressed as Stevie Nicks. Another Stevie answered the door. We tipped our top hats, embraced, and twirled in our shawls. Strangers before that moment, we Stevies were fast friends, sisters of the moon, connected by our spirits and our tambourines.
Months later, my little brother was getting married and I was fresh off of a breakup. The ceremony itself called for a pale-gray gown that matched the dozen other bridesmaids, but the rehearsal dinner called for my Stevie dress, black and gauzy with slits up both legs, and leather accents.
Stevie was my shield, my power suit, my persona.
We all have a little Stevie in us.
Mekenzie Jackson just has a little more Stevie than the rest of us.