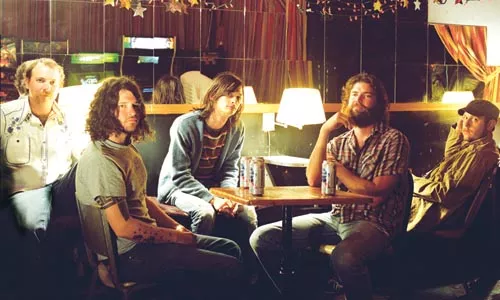 After several years of toil, Dead Confederate has really gotten it together: The band's technique has tightened up, while the songs have opened wide. The Athens, Ga., group's scorching new sound boasts killer rock tracks and layered guitars -- heavy and lumbering without being overbearing, accented by the Cobain-gone-South drawl of singer Hardy Morris. The tunes call to mind the noisier moments in Sonic Youth and Dinosaur Jr., with a heavy Nirvana influence on many of the breakdowns. And all of the group's hard work and harder rock is starting to see some serious returns.
The band's current tour, hitting Diesel on Sat., Dec. 6, celebrates its full-length album Wrecking Ball. It's the first release from TAO Records, a new management/label project started by industry legend Gary Gersh, who signed Nirvana and Sonic Youth. "The fact that people are paying attention at all is huge," says Morris. "And you never know until you get to that point ... whether this music thing can be a career thing or a thing you do on the side. It's pretty mind-blowing."
Morris and bassist Brantley Senn approached the Wrecking Ball tracks with specific results in mind, rather than having the rest of the band -- keyboardist John Watkins, drummer Jason Scarboro and guitarist Walker Howle -- jam things out during the writing process. "The Rat," the tune that's getting most of the band's newfound press and Internet attention (including Conan O'Brien, Rolling Stone and MTV2), is also the oldest song on the album. Dating back to pre-Dead Confederate shows, the song's evolution and continued play sums up the band's journey, and the members' savvy decisions: They identified what they liked and did well; they turned up the heat and trimmed the fat.
Dead Confederate with Manchester Orchestra, Kevin Devine and All Fall Out. 6 p.m. Sat., Dec. 6. Diesel, 1601 E. Carson St., South Side. $11 ($12 day of show). All ages. 412-431-8800 or www.dieselpgh.com