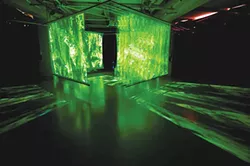 This is not your ordinary light show.
Pattern and Noise, at Wood Street Galleries, is a multimedia installation created by British artist collective D-Fuse that challenges viewers to get involved with their environment, both electronic and natural.
"Tekton One Three" is the most visually captivating work in the exhibit. The towering sculpture on the second floor is made up of two LED bars sliding up and down. As the viewer sits on a bench to watch, small squares of lights dance hypnotically across the bars.
Mylar-covered walls on each side of the sculpture will resonate with local audiences familiar with Andy Warhol's Silver Clouds. The walls reflect a fuzzy image of the viewer, who is no longer simply a witness to the art but a part of it.
Other works include "Tekton," a projection of digitally constructed cyclones continually swirling and shifting colors, and "Tekton Two Zero," a series of computer monitors with smaller cyclones and new-age soundscapes. But both pale in comparison to "Tekton One Three." In fact, the repetition here is dull, making the visuals look more like screensavers than art.
But it's "Small Global," on the third floor, that really defines Pattern and Noise. D-Fuse has long been passionate about environmental conservation, and here the artists create an interactive work exploring the impact of hydraulic fracturing, or "fracking," and deforestation.
Pittsburghers are no strangers to fracking, which has long been a concern in Pennsylvania. Many local art exhibits have tackled the subject, and — unfortunately for D-Fuse — have done so far more poignantly.
At first, the images projected onto paper-thin screens in "Small Global" seem subtle. Facts and quotations from experts and leaders appear alongside statistics one after another, like a PowerPoint presentation. It is logical and convincing.
But when flashing images of smiling models and McDonald's signs remind us of the dangers of commercialization, D-Fuse exchanges the cool, logical tone of the other screens for an apocalyptic message that is more obnoxious than eerie.
"Small Global"'s contrast to the wide-eyed wonder of "Tekton" emphasizes caution, and advises the viewer to dig deeper rather than accepting so-called "progress" at face value. Still, while the exhibit is a bit underwhelming, its intentions are admirable.