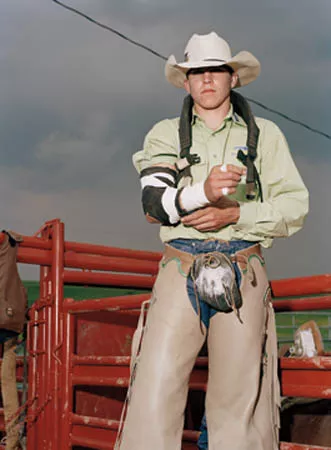 "Bull in the Ring" is a small room with four video projections, one for each wall. Each video shows different footage of the same event, a high school football practice. The coach shouts commands, and the players respond. Artist Shaun El C. Leonardo used handheld cameras, so the pictures are slightly jumpy, plus there's the crunch of shoulder-pads. If you spend more than a minute watching, you'll probably feel dizzy.
This disorientation is a typical reaction to Mixed Signals, a multimedia exhibit at The Andy Warhol Museum. The tagline, "Artists Consider Masculinity in Sports," reveals a lot about its tone. This show is subversive and cerebral, and not a little angry. Unlike, say, Whatever It Takes, the brilliant exhibition on Steelers culture at the Miller Gallery last winter, Mixed Signals harbors no fun or fandom. This is High Art at its most humorless.
Take the "Cowboys" series, by Collier Schorr, or the "Football Landscapes" of Catherine Opie. Each photographer offers, respectively, candid portraits of rodeo stars and football players. The athletes pose, sometimes unwittingly, but all rules and fanfare have been removed from their games. Neutralized, they are only hunky young men in showy outfits. They are shown so plainly that their postures seem self-conscious. Like "Bull in the Ring," these photographs are too naked, too unromantic, too real.
Mixed Signals is a traveling exhibition, curated by Christopher Bedford, and it's certainly provocative. But it seems misplaced in a city that loves sports so unconditionally. How do you insist to a diehard Panthers fan that American sports are inherently racist, as Timothy Hatfield suggests with his "I Am a Man, played by NBA All-Star" series? Hatfield's watercolors portray the faces of NBA players, but the busts are tiny, only the size of a silver dollar. Yet each portrait is painted on an enormous sheet of paper. The effect is wrenching: tiny, expressive black faces lost in a sea of blank white. Other works in Mixed Signals bolster Hatfield's sentiment that African-American athletes are used for their bodies and otherwise disposable.
Americans should question the multibillion-dollar business that affects every aspect of our lives. But what jock or fan wants to hear that his passion is bigoted, nightmarish and homoerotic? Ultimately, Mixed Signals sends a very clear signal, but only to those who already hear it.
MIXED SIGNALS continues through Aug. 7. The Andy Warhol Museum, 117 Sandusky St., North Side. 412-237-8300 or www.warhol.org