The Society for Contemporary Craft has been producing group shows that tackle densely layered and highly relevant subject matter. These exhibits confront and analyze complex issues of personal, political and social importance to explore their nature, their potential impact and possible solutions by studying them through an artistic lens. Two years ago, ENOUGH Violence: Artists Speak Out was a spectacular and disquieting examination of the epidemic of aggression. This collection of works in varied media was a must-see that resonated far beyond its tenure.
The current show, Mindful: Exploring Mental Health Through Art meets the elevated bar set by ENOUGH Violence with a thoughtful, sensitive, illuminating investigation of the illnesses of many forms that collectively are suffered by 1 in 4 adults in the United States, and impact each of us individually and as a society. Developed by SCC's program team, it gathers the works of 14 artists from around the region and the country, ranging from fiber sculpture to ceramic to video, in pieces that are insightful, evocative, sometimes perturbing and often inspiring.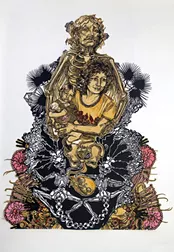 Montana-based Jesse Albrecht's work reflects his deployment to Iraq as an emergency-medicine noncommissioned officer. That experience is represented by a trio of roughly thrown earthenware vessels, painted with images of combat and its after-effects: a rattle-tailed wolf, eyes concentric circles of madness, hovering behind a tank with Death in the driver's seat; a swollen, ravaged brain netted with cobwebs; a smiling unicorn, a fantasy of innocence and happy endings. It's an incendiary condemnation of war as violence and war as profit, and the disposabilty of the humans who fight it, sacrificing their lives and their sanity only to be abandoned by those who've used them. It's a stunning and subtle indictment, asking more questions than it answers.
Ian Thomas' ceramic works delve into the relationship between pharmaceuticals and mental illness, with larger-than-life sculptures of pills and a life-sized ceramic table setting emblazoned with images of capsules and tablets, the new sustenance.
The narrative of Rose Clancy's installation "All For Naught, Forget Me Not" is crystalline and heartbreaking. Clancy's mother endured numerous afflictions, her health declining as she got older. Clancy bisects her world with a heavy wooden door. On one side, a child at play stands on a tricycle to reach for keys dangling in the air. On the other, a folded wheelchair, a desolate birds' nest, and an impenetrable barricade.
The sculptural pieces created by Sophia Jung-Am Park, a professor at Kutztown University of Pennsylvania, are seductive, fantastical reproductions of spindly, slightly menacing flora: graphite-like branches and metallic tendrils supporting wispily delicate ivory flowers. On the gallery pedestals they're spookily entrancing; in the accompanying video, they're transformed. Park's sculptures are worn on the body by dancers who adjust and acclimate to the weight they add and the mobility they take away. The confinement is literal, but the concept of hindrance, particularly the need to work around obstacles rather than be stifled by them, can be interpreted metaphorically as well.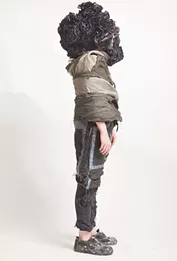 Kaitlyn Evans crafts compacts — ritualized cosmetic tools and hallmarks of beauty, here filled not with glistening powder but pulpy, meaty craters pocked with holes, nodules, flaws. Jennifer Ling Datchuk assembles objects to query the pursuit of beauty as linked to ethnicity and the possible eradication of evidence of the same. Grace Kubilius provides mannequin-like figures at human scale, swathed and swaddled in messy layers of fabric that obscure, hamper and possibly protect the bodies hidden within their folds, while Alison Saar's "Pret-A-Porter" strips the body of its protective skin, squirreling away the mantle of assumed identity, a folded hide, in suitcases battered and worn.
Lyn Godley's "In Flight" series utilizes fiber optics and LEDs in a succession of works celebrating the motion of freedom, symbolized by birds soaring through air, unstopped and unstoppable. With "Same Old Wounds: Family Legacy," Meredith Grimsley looks at the hereditary nature of illness through an intricate installation demonstrating connection with garments, threads and fabric.
The show also includes work by Edward Eberle, Joan Iverson Goswell, Michael Janis and nationally known street artist Swoon.
In addition to the main exhibition at SCC's home base, in the Strip District, are two companion exhibitions. The Mindful Project at Seton Hill, at Seton Hill University, continues through Feb. 18, and The Invisible One, at SCC's satellite gallery at Downtown's BNY Mellon Center, runs through April 24. The Mindful Project (www.exploremindfulart.com) also includes workshops, performances and information sessions at various venues around the region.
At the gallery alone, the subject matter at hand is huge and complex, not always easily definable, often seemingly limitless. This show does a magnificent job of covering a vast expanse of ground, not pigeonholing its topic. The Society for Contemporary Craft is proving expert at doing just that.