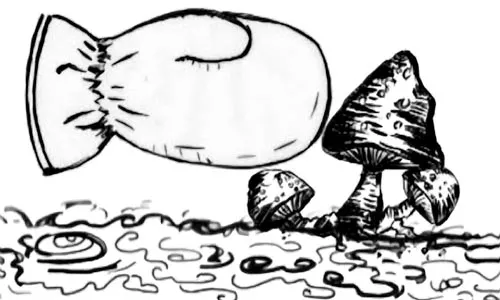 In large, busy art museums, you'll often find the "video room" -- a little, unlit alcove with black walls and rough carpet. Short films play there, over and over, throughout the day. You'll likely enter the dark room in the middle of a reel, disoriented by the darkness and worried about stepping on other viewers' toes. It's a strange transition, from bright gallery to black catacomb.
But video rooms are a nice respite from bustling exhibits. During the Carnegie International, it's relieving to duck into a secluded nook and watch a movie. A bench lets you rest your legs, and the films take you somewhere else -- far from the crowds and canvases just outside. Here, it's just you and a projector.
This spring, few galleries are busier than the Pittsburgh Center for the Arts. With eight exhibits running concurrently, the walls and floors are packed with objets d'art, flat and three-dimensional, large and small, colorful and beige. So once you've wandered the two floors, the eight rooms and the decorated staircase, you may need a good movie. Or four.
Put simply, the PCA's Animated Shorts is a fun little cartoon revue. The four shorts, by three different artists, total under 10 minutes. But they demonstrate, with a healthy dose of humor and weirdness, just what can be done with the form.
Granted, in the era of Persepolis, Aqua Teen Hunger Force and Spike & Mike's Animated Film Festival, offbeat animators have to work hard to find conventions to break. But even as iconoclastic animators run rampant, the form itself remains very challenging -- particularly for animators who, in the digital age, still hand-draw their work, or do stop-action photography with real objects. On one hand, animators can tell whatever story they can imagine and draw. On the other, animation is slow, grueling work, requiring days of toil to produce a single second of credible movement.
Among the PCA offerings, Martyna Matusiak's "OH... DEER" resembles an abstract comic book drawn in black marker. A human figure wears antlers and trembles in the darkness. The film suggests conflict, loneliness, but there is a humorous tinge, thanks to a woman's voice murmuring, "Oh, dear!" Matusiak's is the shortest film, and the least accessible, but her markered drawings look the most painstaking.
Diane Christiansen is the freest storyteller of the bunch. Her two films, "Cocoon Girl" and "Sweet is Anchor," are surrealist adventures, where landscape and biology are crass and ever-changing. The Cocoon Girl in question looks like a Pokémon wrapped in mummy bandages. She stands still, staring with curious black eyes. A dog enters, shits on the ground and flowers bloom. Red stars, as angular as snow-flakes, fall from above, and "Take Me to the Stars" plays in the background.
"Sweet is Anchor" celebrates the absurd even more fervently: Giant mushrooms emerge, fingers bleed, clowns weep and mutant whales leap through ocean waves, smoking cigars. Christiansen's world is unpredictable and largely broken; there's plenty of blood, tears and excrement, but all of these lead to better things, a nonsense cycle of destruction, rebirth and beach songs.
Most people will scratch their heads at these three films, so the People's Choice Award will likely go to Drew Pavelchak and his stop-action work "Thing Flings." The gimmick is simple: A pair of staplers meets on a desk, they chat, and then they kiss passionately and screw. Meanwhile, two staple-removers meet on the same desk, make out, and screw.
It's fun, watching office supplies in mid-coitus -- the staplers bouncing and gyrating, the removers biting each other with deadly fangs. Better still is the film's internal logic: The staplers don't "talk," they just click. And thanks to Pavelchak's clever audio design, their congress sounds only like the clunking of metal and plastic.
Clearly, it was good for them. Taking a 10-minute break in the video room, it's good for us, too.
Video Shorts continues through June 21, Pittsburgh Center for the Arts, 6300 Fifth Ave., Point Breeze. 412-361-0455 or www.pittsburgharts.org.