The recent Internet frenzy over the color of a dress was compelling not just because it shows that each of us sees things differently, but also because it illustrates our relationship to digital media.
Silver Eye Center's Fellowship 15 includes two solo exhibitions juried by Allison Grant, assistant curator at Chicago's Museum of Contemporary Photography. Both exhibitions — one by Christopher Meerdo, the other by Matthew Conboy — feature works that challenge our notions of objective perception. Chicago-based Meerdo's video "Cipher II (wlinsurance-20130815-A.aes256)," in particular, resonates given the intensity of the dress debate: Bright colors flash on screen in rapid succession, with a score of static-sounding clicks by Elise Macmillan. The colors and sounds are hypnotic, but you are keenly aware that your eyes and mind cannot keep up with the visual and aural information. This conundrum is complicated by the fact that the piece is itself an interpretation, using RGB color values, of an encrypted Wikileaks file. By visualizing seemingly inaccessible material, Meerdo exposes digital media's fallibility while conceding our cultural dependence on it.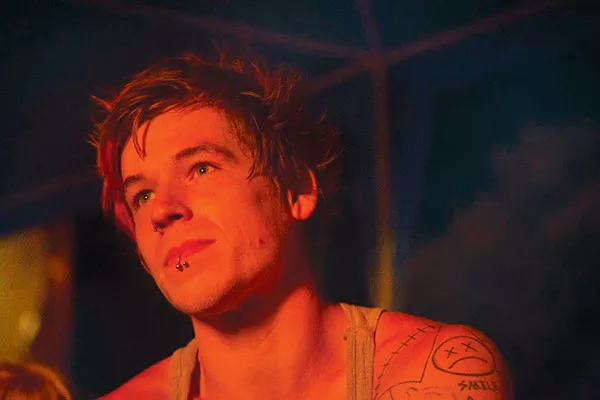 In the series "Anthology," Meerdo recovers deleted photo files from used memory cards purchased online. By restoring data that has been erased and recorded over, Meerdo resurrects the fragments left behind. He excavates our collective visual memory in order to understand and upend the authority and authenticity of the photographic medium.
Conboy's images are more narrative, although hardly straightforward. A tense beauty pervades his subjects and draws the viewer into a drama that vacillates between truth and fiction. His series, titled "Objects in mirror are closer than they appear," captures Skatopia, a skate park in southeastern Ohio. Echoing Nan Goldin and Larry Clark, Conboy offers a glimpse of youthful angst, although he never achieves the intimacy that comes from being an insider. A lone gas can in daylight or a towering bonfire at night suggests the exuberance and exasperation of ardent emotion.
While the two shows are unrelated, Conboy's "Mob at the Bonfire" reflects the same anarchic energy that Meerdo explores in his video "Untitled (Redactions)," in which he has spliced together the moments during nighttime protest videos from YouTube when a flash from someone's camera washes out the image. Light heightens the drama in each and reminds us that seeing and perceiving depend on your point of view.