Continuum: Doug DuBois and Aaron Blum is the first in a projected series of contemporary photography exhibits exploring mentorship and influence — generally between teacher and student. Blum received an MFA in photography in 2010 from Syracuse University, where he studied with DuBois, and each is represented by selections from a recent long-term project focusing on a social group in a defined location. DuBois and Blum dramatize their subjects without idealizing them, creating nuanced images that reflect an intimate knowledge acquired through extensive personal interaction and, in Blum's case, shared history and identity. 
Doug DuBois, a 50-ish prof, has been prestigiously exhibited, published, collected, fellowshipped and honored as an educator. His project "My Last Day at Seventeen" (2009-12) is a sensitive depiction of coming-of-age in a housing estate in southwestern Ireland, where the project grew out of an artist's residency that included working with at-risk youth. DuBois' photographs feature people — mostly teen-agers — alone or in groups, and in their expressions we can read uncertainties and anxieties that are not unusual among those on the threshold of adulthood. But those emotions are heightened by Ireland's economic problems and the lack of opportunity that beclouds the subjects' future.
Each of DuBois' portraits has an emotional poignancy, along with an unsettled quality created by facial expression, pose, details (patches of graffiti, broken windows, an antisocial tattoo) and subtle tensions of angle and composition. Many also include a considered slice of locale, including seacoast, park and street views around the brightly colored housing. The houses and surroundings generally look relatively clean and decently maintained, and the young people look fairly healthy, though many appear anxious or sullen, coupled with flashes of bravado among the young men. This is not a picture of desperate poverty, but a world in which young people of limited means are challenged by an uncertain future, short on optimism and hope.
Aaron Blum's "Born and Raised" (2010-13) depicts an environment closer to home: his hometown of New Martinsville, W.Va. Thirty-year-old Blum, formerly director of education at Silver Eye, currently works as an adjunct photography instructor in the Pittsburgh area. His lyrical color photographs portray his "upper middle class family and friends," showing an underrepresented side of life in often-stereotyped rural Appalachia. As with DuBois, Blum includes evocative portraits of people posed in a variety of surroundings. But Blum casts a wider net, using interior still lifes and views of large-scale industry and unpeopled landscapes.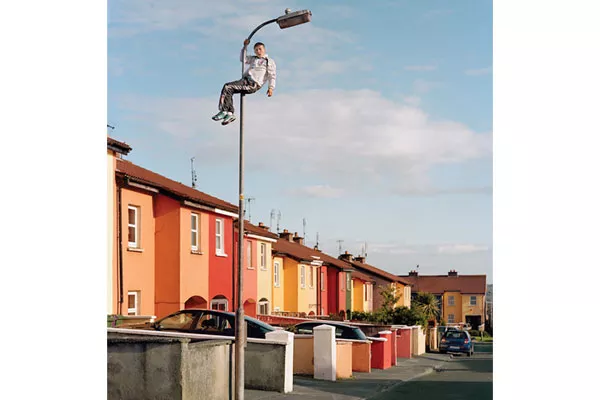 In each case, Blum manages the image effectively, condensing aspects of the world into a slice of time and space, yielding a stand-alone photograph that is laden with information and suggestive of insight, yet open-ended. While a photograph might feature a nuclear power plant or an up-to-date factory of the sort that doesn't need many workers, we're not guided to any conclusions. Outdoors there is some decrepitude to be seen and some revitalization as well, while nature is ubiquitous and barely held at bay. Indoors, bourgeois comfort is the dominant motif. The overall impression is of people existing in a changing world that, in this case, hasn't left them behind.
DuBois describes his project as "somewhat fictional, somewhat documentary," even acknowledging digital alterations, while Blum describes his series as "based on the false impressions of others, [and his own] idealizations and personal experiences." I think what DuBois and Blum mean to convey in their artist's statements is that these projects are not limited by the strictures of photojournalism or its close kin social documentary. In gallery talks at the exhibit's opening, DuBois and Blum emphasized that these scenes are often stage-managed in collaboration with the subjects. This is not the realm of staged art photography, however, but rather modestly tweaked photographic realism. Much of the power of both series resides in their detailed description of appearances, and their plausible insight into social groups and attitudes.
Because this is the first installment of this series, it's not surprising that the nature of influence between mentor and student being explored and celebrated is rather direct: There are similarities of tone, approach and appearance, while still recognizing the diverging paths. But I hope that as Continuum unfolds, influence will be defined broadly, with room for unexpected insights within less apparent connections.