When it comes to their menu, Jessie Nowicki and Matthew Manowski have no rules. The co-founders of Pittsburgh's newest pop-up, Mesa|Terra, don't limit themselves to a single cuisine. Rather, Manowski describes it as "somewhere between Mediterranean/Middle Eastern and U.S. regional East."
That's may sound like quite a range, but
Mesa|Terra
keeps it focused on six countries: Portugal, Spain, Italy, Greece, Morocco, and Israel, with a bit of Pittsburgh sprinkled in.
Nowicki and Manowski founded Mesa|Terra after relocating from Denver to Pittsburgh earlier this year. The concept was born out of time spent in the Mediterranean and Nowicki's work with the cuisines at award-winning restaurants in Chicago and Denver. In 2019, the duo returned to family roots in Pittsburgh (Nowicki's grandfather owned the famous Barkus Bakery), with hopes of opening a brick-and-mortar cafe.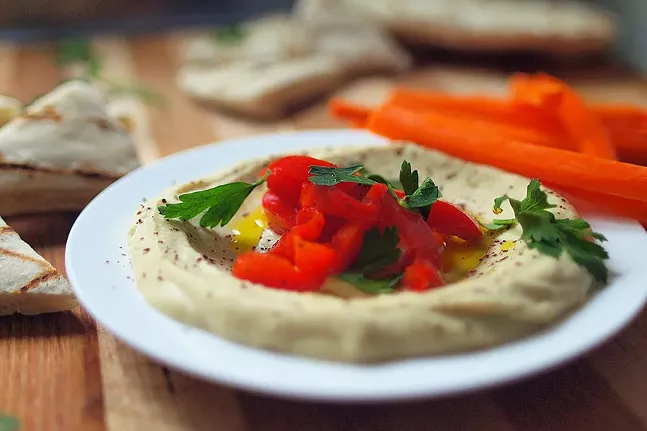 When they first arrived in Pittsburgh, Nowicki and Manowski focused their efforts on catering. But Nowicki found that the demand for catering was much lower here than in previous cities she'd worked.
So on a whim, Manowski applied for a spot at the Summer Downtown series Night Market held in Market Square. Manowski describes the residence at the market as "cooking for a live audience." The duo is able to take risks and gauge success almost immediately.
Since the first week, Manowski notes they have pared down the menu, focusing on approachable, traditional items that aren't too far out-of-the-box. The menu changes weekly, Nowicki adding or taking away items based on community response. For now, they're focusing on four items: Laffa chicken, roasted red pepper hummus, baklava, and cucumber salad with cous cous.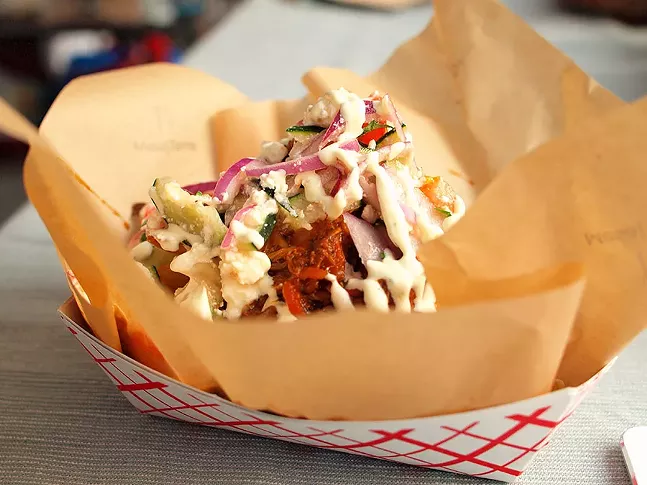 The menu floats around the same ideas each week, the list a short spread of sandwiches, salads, sides, and a few sweets.
Sandwiches are based by Nowicki's homemade flatbread, each piece griddled with balloon-like edges. They're experimenting with Moroccan skewers and cookie recipes, and already have regulars who come to the stand just for the cucumber and feta salad. Nowicki's round baklava alone is worth a visit to the market; the syrupy pastry bursts with sweet spice.
The pop-up is also a chance for Nowicki and Manowski to learn what Pittsburgh needs, and what gaps they can fill. Instead of just piling onto the list of restaurants, the pair is figuring out what they can bring to the city's table.
Mesa|Terra's time Downtown is limited; they only have four more dates at the Night Market. After the pop-up is finished, Nowicki and Manowski are hoping to bypass the "food truck phase," and pop their tent at events, breweries, and whatever else they can find along the way. The end goal is a BYOB cafe. But for now, they're open to anything.
Find Mesa|Terra all summer at the Night Market Downtown.