When I visited a recent Pittsburgh Comics Salon workshop, Juan José Fernández, one of the group's facilitators, asked me if I draw.

"Not well," I said.
But in Fernández's opinion, comic making doesn't require technical prowess. At these workshops, he likes to downplay the process of creating something sellable and instead focus on creating something personally meaningful.
"We all draw well enough to communicate," he says.
The next workshop is Sat., March 16, at the Brew House in South Side, available to anyone16 and older.
The Pittsburgh Comics Salon has existed in various forms for about five years. As stated on its website, the Comics Salon workshops aim to "get new conversations started between cartoonists and comics-makers in the area and to push the frontiers of comics." In the past, the group has done workshops in conjunction with the ToonSeum, for example, but recently began operating independently. The group hosts three events a month, one at Kaibur Coffee in Polish Hill (a shop beneath Copacetic Comics Company), one at the Brew House, and another at BOOM Concepts in Bloomfield. Once a month, art from the workshops are compiled into small booklets distributed to those who attended.

Each of the three workshops are similar (though the Brew House meetings run longer and feature beer for attendees 21 and older). While the other workshops may feature a single comics-making activity, according to Fernández, the Brew House meetings are typically long enough for a few.
The salon facilitators tend to give pretty open-ended prompts just to get people going. At last week's workshop, Fernández wanted everyone to use their non-dominant hand to draw a one-eyed creature on a small piece of paper and, on another, a beach. Then, he had everyone write down a question. He later collected all of these, and then each person had to pick an illustration and a question from the bunch, which would become the basis for their comic work for the day.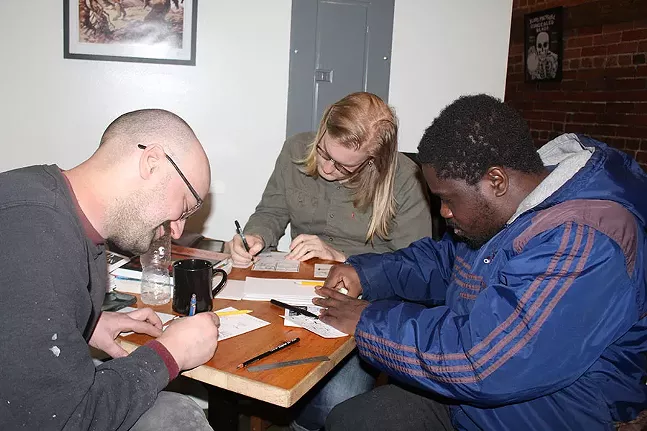 Fernández likens drawing with one's non-dominant hand to "swinging around a shotgun." The other day, he said he drew with his non-dominant hand, resulting in characters who looked truly alive.

"None of them were confined by clean lines," he said.

For Fernández, the priority shouldn't be perfection in the line-work, but simply the creative process of turning thoughts to pictures.
He smiled and chuckled when he saw the creatures the group drew.
"That's really good," he said, looking at one. "I love that they're not naturally one-eyed."
Many simply had scars or an eye-patch where an old eye used to be. Some looked like little dragons, while another resembled a caveman.
One person at the workshop, Ann Lewis, 28, a public school teacher from the North Side, comes to the workshops regularly and appreciates setting aside time to attend and get her ideas onto a page.
"Sometimes, I'm just so creatively drained," she said.
Fernández, a cartoonist and comics educator who works a day job at the Pittsburgh Greater Arts Council, thinks comics making gets bogged down when profit butts in. He noted, for the most part, the only space in mainstream comics for stories that aren't, say, thrillers or corporate superheroes, tend to be graphic novels. Confining other sorts of stories to books hundreds of pages long prohibits a lot of creative people from sharing intimate, personal narratives in the mainstream industry.
At the Pittsburgh Comics Salon, folks are encouraged to immediately turn ideas into anything meaningful to them.

"This part of the comics process is what really excites me," says Fernández.