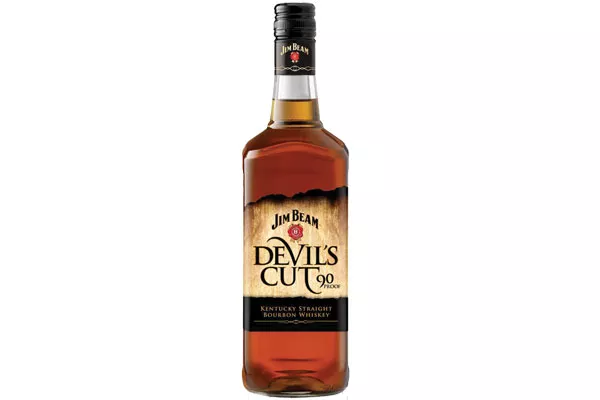 Kevin White, bartender at Braddock's Street Side, is a student of whiskey. "I love this, I research it," he says, pouring a shot of Jim Beam Devil's Cut. 
Devil's Cut, a heavily-oaked bourbon with a long finish, is one of the three selections offered as part of this week's "Whiskey Wednesday" happy hour at Braddock's, on the ground floor of the Renaissance Hotel, Downtown. (Elmer T. Lee single barrel and Wild Turkey Kentucky Spirit round out the trio of offerings.)
Every week, White selects three top-shelf whiskeys from the bar's extensive collection. (With 44 on the menu, Braddock's claims to have the largest in Pittsburgh.) White generally builds the tasting around a theme, but sometimes he just follows a whim. "I have my discretion on what I'm going to use," he says.
The whiskeys are paired with tasting-size portions of appetizers prepared by the chefs in the kitchen of the adjoining hotel restaurant. The entire tasting is only $10.
White began sharing his love of the spirit with a weekly happy hour (5 p.m. to 7 p.m.) two-and-a-half years ago. He originally set up a sampling table in the hotel lobby, but eventually convinced management to let him make it a weekly event in the bar. 
For those interested in learning more about the whiskey, White is happy to explain the nuances of each pour — though sharing his enthusiasm is not required. "Some people want to talk about it, some people don't," he admits. 
The bartender "spends a lot of time" in Kentucky, especially along its famed Bourbon Trail: Jim Beam, Buffalo Trace, Maker's Mark, Tom Moore, Wild Turkey, Four Roses, and Woodford Reserve. "I've been to every one of those distilleries, some of them twice," says White. 
It's not all about Kentucky, though: White is equally passionate about whiskey's importance to Pittsburgh — the epicenter of the famed 1794 Whiskey Rebellion led by farmers upset by a tax on the drink. Such historical connections, says White, are "a really big deal here."