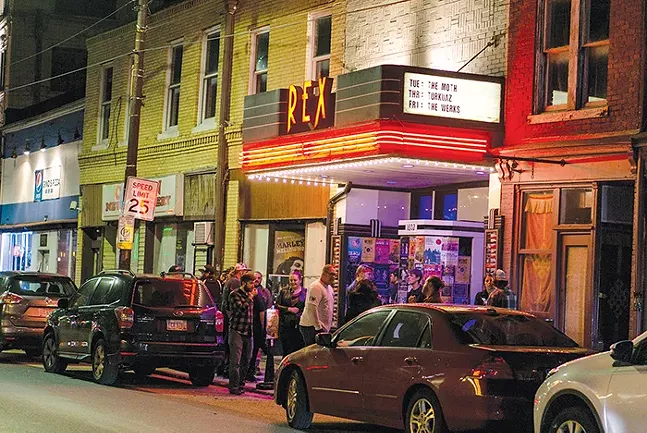 Earlier this year, Billboard reported that eight out of 10 of the largest indie promoters a decade ago have since been acquired by one of two giant promoters: Live Nation and Anschutz Entertainment Group (AEG). Locally, the Midwestern company Promowest, which books more than 100 shows a year at Stage AE, was acquired by AEG late in 2018. And it's happening consistently in markets across the country, making huge profits for the parent companies.
It's a relatively recent phenomenon, tied to the collapse of the record industry. As album sales plummeted, tour ticket profits became more crucial to artists making ends meet. So everyone — artists, labels, promoters, venues — have had to acclimate and prioritize touring. In Pittsburgh, new venues like The Roxian and the UPMC Events Center have opened up thousands of seats in the growing Pittsburgh concert market, which is great news for the nation's largest concert promoters, but not so much for regional companies. So how do the smaller companies stay alive?
Brian Drusky, the president and owner of Drusky Entertainment, says his company feels a growing pressure from the national level. It's more difficult, and more expensive, for "mom-and-pop" companies to book acts of the caliber their audiences expect.
"There is definitely a change in the competition in the music scene in Pittsburgh," Drusky wrote in an email. "There are larger companies that are overpaying for acts on a national level. That makes it hard for us mom-and-pop independent promoters to survive. These are acts that we collectively have booked with success in the past."
Although Drusky's Pittsburgh-based company advertises itself as "Pittsburgh's premiere concert promoter," producing more than 500 concerts a year at venues including Rex Theater, The Smiling Moose, and Carnegie of Homestead Music Hall, it's still small compared to a company like Live Nation. According to a press release, Live Nation shows attracted 93 million fans in 2018, driving the company's concerts revenue up 11 percent from 2017.
Smaller companies don't always have access to the same venues as the big promoters. The Roxian, for instance, established an exclusive partnership with Live Nation when it opened in May.
And the bigger companies have also started charging more per ticket. Live Nation created a "premium seats" option, charging customers between $5 and $30 extra for the chance to sit at, or near, the end of a row. Larry Webman, an agent at the talent agency Paradigm, told Billboard in May that Live Nation's plan seems to be working — concert attendees are willing to pay more for aisle seats.
"Lots of artists are doing it — people will pay more for them. You look at the seat map and the aisle seats are all sold," said Webman.
The inflation of ticket prices for "premium" seats first became popular on scalping sites like StubHub, where ticket resellers charged more for seats on the aisle. Promoters and artists are realizing they're missing out on potential profits by not charging extra for those seats.
"If the artist is selling that ticket for $150 and it's going for $350 on StubHub, the artist isn't seeing that lift go to their gross," Webman said. "It's just coming up with creative ways to help the artist. Dynamic, platinum, and aisle seats across a 30- to 40-date tour, it puts a lot of money in the artist's pocket."
Because larger promoters are making more money off concerts, they're paying more for big acts — meaning smaller promoters have to do the same, which raises ticket prices for the consumer.
But Drusky says he intends for his company to stay the course, while seeking "new inroads" to figure out how to survive in this evolving landscape of promoters.
"We at Drusky Entertainment are making strides at continuing to do what we do, and that is booking good quality shows to the people who have supported us for years," he says.