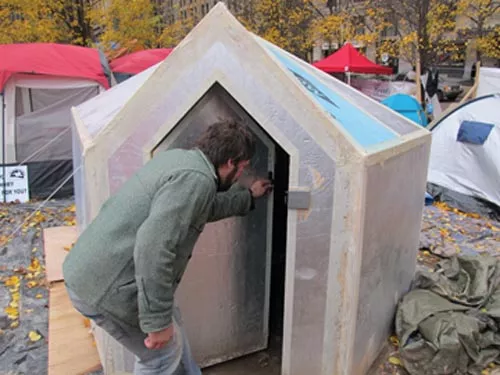 With police dismantling Occupy Wall Street encampments across the country, protesters in cities like New York and Philadelphia are shifting their focus: Instead of being rooted to a specific site, activists plan to protest corporate greed through rallies and other mobile actions.
Occupy Pittsburgh, by contrast, is still headquartered Downtown at Mellon Green, a parklet owned by Bank of New York Mellon. And protesters here are now planning to "winterize" their camp -- a move they hope will re-energize their advocacy.
"Winterization gives us a chance to refresh everything," says Occupier David Meieran, a member of the movement's winterization working group. "Winter is our new spring."
As the weather has cooled, so has the activity at Mellon Green. Although nearly 100 tents stand inside the parklet, activists admit that at best, about 20 to 30 campers use them on any given night. At least one Occupier, who declined to provide his name to City Paper, claims to have contracted hypothermia.
In the days after the camp was established in mid-October, Occupiers held almost daily protests. But their most recent large-scale action -- joining union members and a few hundred others in a march to the Greenfield Bridge -- took place Nov. 17. Occupy Pittsburgh's next scheduled large action, a march to support Human Rights Day, isn't slated until Dec. 10.
So why continue camping?
"We've been having a lot of conversations [about that]," says Chris Mason, who has been active in the movement but does not camp on Mellon Green. "People still have a lot of pride in camp. It hasn't lost its symbolic prominence."
Nationwide, camps have helped define the movement, but Mason cautions they must be more than a place for a few hardcore protesters to sleep. "We need to turn it into something that's more active."
"There's certainly a lot of talk about the next steps," adds Occupier Patrick Young, another non-camper. "We've got to figure out how to deal with the Pittsburgh winter, and to build on the level of energy and excitement."
Occupiers hope to do so with a plan they're calling "Occupy 2.0." The plan involves making the camp more habitable, creating a more effective base for future protest.
Bram Reichbaum, a member of the winterization working group, says Occupy Pittsburgh is budgeting $13,000 toward its winterization effort. It has created an online-donations account to cover the cost of sleeping bags and other materials. At press time, Occupy Pittsburgh had collected $990; links to the donation site can be found at www.occupypittsburgh.org.
The winterization's "sexiest endeavor," Reichbaum says, is building yurts -- enclosed structures, made with insulation board, that are warmer than tents. A demonstration model has been on site for weeks: Building more of them, Reichbaum says, may help repopulate the camp. "People who don't have the right materials [to camp out] choose not to stay," he explains.
Meanwhile, under the guidance of an "urban planning working group," campers plan to remove unused tents, replacing them with a few larger yurts, for use during communal meals and meetings.
It's unclear how Bank of New York Mellon, which so far has not challenged the Occupiers' presence, would react to seeing more elaborate structures: A bank spokesperson declined to comment.
But so far, campers say they intend to stay put.
Says Reichbaum, "We're rebooting the whole occupation."