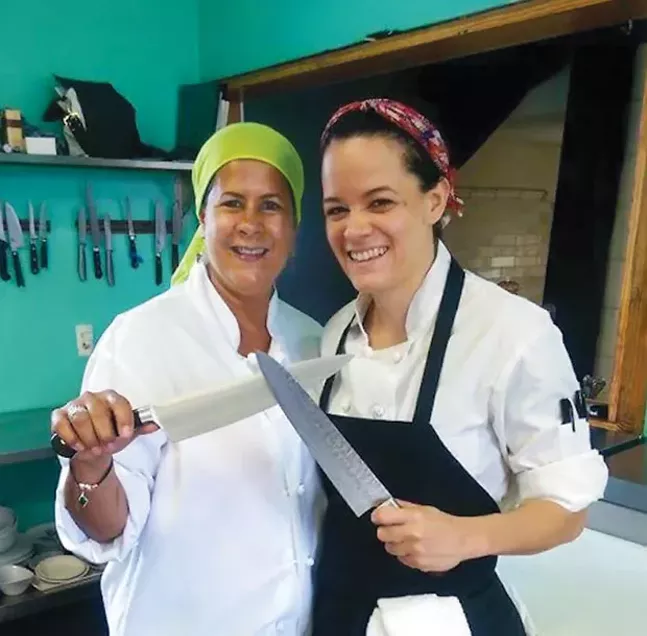 In the almost two weeks after Hurricane Maria made landfall in Puerto Rico — wiping out power grids and massively damaging the island's infrastructure — aid from the U.S. government has been slow to arrive; the Navy initially deployed only three ships to the island.
Twitter acknowledgement of the devastation from President Donald Trump didn't come until five days after the event and when it did, it seemed to partly blame Puerto Rico for the crisis by noting its "massive debt and broken infrastructure."
During these days, Jamilka Borges, executive chef at Spoon, has been moving through her work in a fog of worry and frustration. Borges is Puerto Rican. She came to Pittsburgh in 2007 for culinary school, and most of her family still lives on the island. When City Paper spoke with her on Sept. 28, she'd still had very little contact with her family, speaking briefly with her mother, who lives in San Juan.
"When we saw that [the hurricane] was approaching, my sister and I, our first reaction was that it was going to be fine. I think a lot of the population thought it was going to be fine," Borges says. "We're an island. We get hurricanes here and there but I don't think they understood enough what a Category 4 meant." What it meant was catastrophic conditions.
"At the beginning there was still some [phone] signal, and I would just get videos of roofs flying down. And then it was impossible to get in touch with anyone. Everything is flooded. The neighborhood I grew up in still has water up to your waist. The smell is unbearable."
The extent of the damage to roads and the shortage of truck drivers have made supplies very difficult to distribute. Food, water and gas deliveries have been struggling to make it to the places where it's needed most. "When I finally talked to my mother yesterday for six minutes, she is reaching the end of her water. She's drinking a half a bottle of water a day," says Borges. As of press time, Puerto Rico Gov. Ricardo Rosselló had estimated that half of the island is still without drinking water.
What many Americans don't realize is that this is a domestic crisis, not a foreign one. According to a recent Morning Consult poll published in The New York Times, only 54 percent of Americans know that Puerto Ricans (who number 3.4 million as of 2016, according to U.S. Census figures) are American citizens. This reflects a long cultural and geographic divide between Puerto Rico and the continental U.S. Many, including Borges, think this is the reason that aid from the U.S. government has been so slow to reach the island. "It shouldn't matter that they are American citizens, though. These are people," says Borges.
While manufacturing remains Puerto Rico's top industry, tourism factors largely into the economy. According to the government-run Puerto Rico Tourism Company, tourism brought in $4 billion dollars in 2016. With the number of experienced and bilingual workers that will be unemployed after the hurricane, Borges thinks the mainland restaurant and hospitality industries can step in and help. At Spoon, Borges intends to employ her friends who lost their boat, which they used to run tours, and encourages other restaurant owners to do the same. In light of the ongoing shortage of labor in the restaurant industry, hiring could be mutually beneficial.
"They're American citizens; [they] have a passport. You don't have to deal with hidden visas. The majority will be bilingual," she says. Borges says she's already received a lot of support. "It's overwhelming the amount of people that have reached out in Pittsburgh. Every chef, every friend, every bartender, they're like, 'How can we help?'"
Even with help, the damage wrought by the hurricane won't fade quickly. "There's nothing left. My concern is, what happens months from now? What happens a year from now to rebuild the island?" says Borges. She and other chefs will host a series of fundraising dinners over the next month, and Borges encourages donations to organizations that prioritize transparency. She is personally donating to a friend's organization, ConPRmetidos, and believes that at the moment, cash donations will serve the population more than material goods because of the difficulty with transport.
Right now, though, Borges' concerns are immediate. "I just want to hug my mom," she says.
She'll get her wish. At press time, Borges was in Florida with family and confirmed to CP via text that her mother was able to board a plane and was on her way to reunite with the chef. Hopefully this will be the story of thousands of others as aid continues to reach the island.