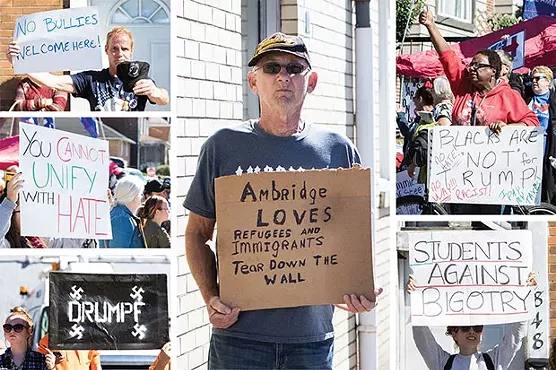 When Donald Trump campaigned in Ambridge in October 2016, he spoke about the area's decline and promised he could bring back jobs in the steel industry. The soon-to-be President gave rally-goers a vision of hope, but also reminded them their region was doing "lousy" and to disregard anybody who told them otherwise.
"Don't let anybody tell you you are doing great," said Trump to the crowd.
After Trump's victory, large out-of-town publications picked up on this theme and ran stories about how white working-class, Democratic voters were swayed by Trump and helped secure his victory in Pennsylvania and nationwide. The New York Times went so far as to suggest that Ambridge's decline turned its voters into solid Trump supporters. "A Pennsylvania Town in Decline and Despair Looks to Donald Trump," read the Nov. 9 Times headline.
But for many who live and work in the borough of about 7,000 people, that assessment is far from Ambridge's reality. In actuality, Hillary Clinton won Ambridge by 12 points. And many say the real Ambridge is a place where a lot of heavy-industry facilities are still in operation, if not at the heyday level of the 1940s. The real Ambridge, they say, is where borough officials, community leaders and business-owners have been working together for years to revitalize the business district.
And it's working. New businesses have opened or soon will be along Ambridge's main street; the town ended 2016 with a budget surplus; and it secured an "A" bond grade from credit-rating agency Standard and Poor's. This is the borough many residents want people to see.
Three years ago, Felicia Mycyk started Ambridge Connection, a news website dedicated to everything Ambridge. The borough regularly makes the news for stories about gun violence and drug busts (it consistently ranks as one of the most crime-ridden municipalities in Beaver County, according to federal Uniform Crime Reporting data), but Mycyk's website covers all the happenings there, not just the sensational.
"The goal is to show what is really happening in Ambridge," she says. "What I see is that there are a lot of groups that are trying to tell a better story."
She mentions the recent opening of Muscles' Gym in downtown Ambridge, two new restaurants setting up shop on Duss Avenue, and antique shops starting up near Old Economy Village, a preserved Harmonite historical site. And volunteers are beautifying the town with tree plantings and a community garden.
"But you don't hear nothing about these stories," says Mycyk. "All you hear about is people getting shot, or stories about drug busts."
Also, Zadock Dismuke, of the Ambridge Police department, says 2016 reports show crime is decreasing overall.
Mycyk says negativity surrounding Ambridge was perpetuated when Trump visited and it starkly divided the town. "We hit the national stage and we had negative press. What I saw when [Trump] came into town, was that everyone was divided. It divided us," she says. "There are people investing to make Ambridge great. People are moving this community forward."
Some of those people are Matt Salopek, Rick Hendricks and Chris Villella. The Ambridge-area natives opened Bridgetown Taphouse in 2015. Salopek says Ambridge needed a neighborhood gathering spot that was welcoming to everyone. That's why he and his partners started the taphouse as a non-smoking bar with an extensive draft list and unpretentious food, like wings and burgers.
"I wouldn't say that people are here to drink away their sorrows with the mill's closing," says Salopek. "They are here to enjoy a drink in a safe environment in Ambridge." And he says that this idea is catching on: "If you would have told me there was a craft-beer bar next to a yoga studio 10 years ago on Merchant Street, I would have laughed."
Salopek took slight issue with the New York Times portrayal of Ambridge. The Times visited Fred's Divot, a well-known dive bar, on the night of the election and quoted Ambridge locals lamenting "open borders" and the Affordable Care Act. "We need a change," John Gaguzis told the Times. "We've got to get rid of the Democrats that support people that don't want to work." But Salopek wonders why reporters didn't walk 200 yards down the street to his bar and see another side of the borough.
Ambridge native Paul Hertneky says Ambridge is different than how outsiders want to portray it, and he rejects the idea that Rust Belt mill towns are solidly Trump supporters who are frustrated with the state of their communities. His book Rust Belt Boy, a collection of essays about growing up in Ambridge, made a big impression on the town when it was published last year. (Every source City Paper spoke to mentioned it.)
"[New York Times reporters] should have gone to the Bridgetown Taphouse," says Hertneky, who himself now lives in New Hampshire. "It is pretty easy to find people who want to celebrate Ambridge, but probably not at Fred's Divot."
On paper, Ambridge appears to be a great example of Trump Town USA. It's mostly white, it lost a lot of jobs when American Bridge Company (the town's namesake) left and the steel industry collapsed in the 1980s, and its 2015 poverty rate is at 21 percent, much higher than the 12 percent regional average. And the borough's residential neighborhoods literally show signs that Trump is popular among some residents; two months after the election, several Trump yard signs were still standing along Maplewood Avenue, for example. Also, in Beaver County as a whole, Trump increased Republican gains compared to Mitt Romney in 2012; Trump won the county by 19 percentage points while Romney only won by 6 points.
However, Hertneky says that locals are gaining momentum to improve Ambridge, and aren't waiting around for Trump to make the borough great again.
"Ambridge needs the help of the people who are living and working there. ... It will be brought back by the people who are there and the people who want to go there, and its belief in itself as a community," he says.
London Cain was drawn to Ambridge after reading Rust Belt Boy and meeting the people working toward revitalizing the borough. The Sewickley resident decided it was an ideal place to start a community playhouse, which he named Iron Horse Theatre in homage to Ambridge's industrial past and present.
"You are going to get negative attitudes when [people are] talking big about a place like Ambridge," says Cain. "But somebody has to work to make it better and I am just one of those people.
"I have gotten to know this community and I've fallen in love. This could be the next Lawrenceville."
For Ambridge Borough Manager Joe Kauer, people like Cain investing in Ambridge's business district are key to advancing the town.
"The next step is battling perception," says Kauer. "If that's what everyone thinks of Ambridge as a 'reality,' then we have to work against it. We have to find a way as a community to reinvent the way that people see Ambridge."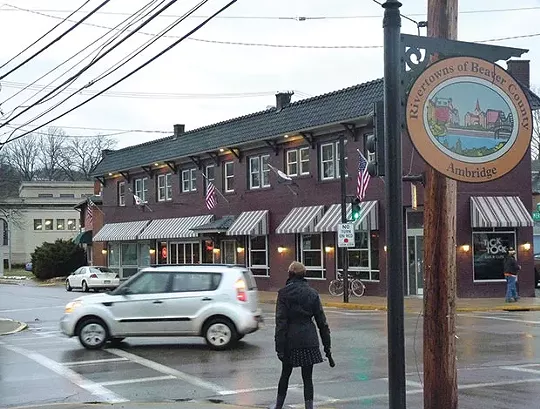 Another false perception Kauer says he has to battle is that Ambridge has no industry. Ambridge's industrial park, the Port of Ambridge, has no vacancies and one of the tenants, Sippel Steel, is actually fabricating metal for local construction projects. "Just go down to Port of Ambridge and watch all the trucks coming across the bridge," says Kauer.
But Kauer acknowledges the town's problems. According to Ambridge Connection, last August, at a panel on the drug-addiction epidemic, Ambridge Police Chief James Mann said that the borough experienced 40 overdoses and five deaths in connection with drug use in the first eight months of 2016. That's well above Pennsylvania's average for overdoses and drug-related deaths.
Kauer also realizes that one end of Ambridge's main street, Merchant Street, has several vacancies that need to be filled in order for the borough to thrive. But he's hopeful.
"It takes a couple of people to take that first step," says Kauer. "If people see it as successful, then it will attract more people."
Kauer is dedicated to showcasing the impact local government can have. "If I can help promote what good government is doing about Ambridge borough, then I can get people to realize the reality versus the false perceptions."
Experts agree. Chuck Marohn of Strong Towns, a national media nonprofit advocating for financially resilient development, says change has to come from a local level.
"We had this idea that everything needed to be from a huge savior from the outside," says Marohn. "When we grow slowly and incrementally, not only do cities grow more prosperous, but the people there share more in the growth."
Marohn, in a thinly veiled criticism of Trump, adds that we can't "just look for the big sugar daddy to replace what is lost, and build up a utopia."
And Kauer isn't worrying much about the president. He's more focused on improving the borough and keeping Ambridge on the new path it has forged.
"We are still behind in the region, but [Ambridge] is coming back, there is a future here," says Kauer. "You don't have to build it new, it is already here."