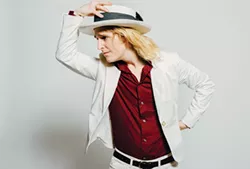 He's from Southern California and he's lived in New York City, but the place where modern-day glam rocker Shaun Fleming, a.k.a. Diane Coffee, feels most comfortable is, oddly, Bloomington, Ind.
"Bloomington is one of the most beautiful places there is," says the 28-year-old former drummer of Foxygen. Fleming followed his partner, who has his roots in the college town (population 80,405). "We have a little house. I can sit by the fire. It's perfect." He even recruited his touring band from the local music scene.
Fleming's preference for John Cougar Mellencamp country is surprising. From his wardrobe of vintage clothes to his flowing blond locks to the dreamy, rollicking, guitar-rock sound of his debut, My Friend Fish, Fleming comes across as the reincarnation of Mick Ronson.
Yet the move helped him gain distance from Foxygen, a band he'd provided with beats since high school. Fleming grew up in the same affluent Los Angeles suburb as Foxygen's central duo, Sam France and Jonathan Rado. Fleming got his first taste of show business as a child voice actor, working on a variety of Disney productions. "It was a good way to get out of school," he recalls, "and the fridge in the green room always had Jell-O pudding."
By high school, Fleming's interests had turned to music. France and Rado "knew I could drum a beat, so they asked me to drum at one of their shows," Fleming recalls. One gig lead to another, and when the neo-psychedelic band signed to Jagjaguwar (which, incidentally, is headquartered in Bloomington), Fleming went along for the ride.
This is how he found himself living in a cramped New York City apartment with Rado. It wasn't exactly the lifestyle of The Velvet Underground. "I couldn't afford much," he recalls. "I didn't leave the apartment. I lived on chicken in a can." He adds, "It was like living in a closet. Rado collects a lot of gear. It was floor-to-ceiling music gear, three-fourths of which didn't work."
The claustrophobic lifestyle did give him the focus to record My Friend Fish. "I thought I was just putting down songs," says Fleming, who played most of the instruments and recorded on laptop and iPhone tools. "I didn't know until I was done that it was a record." Western Vinyl released the album in 2013, and Fleming decided to stamp the name Diane Coffee on his solo work, after Diana Ross and "Mr. Coffee," a song by Nathan Pelkey, a lo-fi Texas singer-songwriter he admires.
Whereas My Friend Fish had a spacey vibe similar to Foxygen, the second Diane Coffee effort, Everybody's a Good Dog — released this month — is sunnier and pop-friendly, inspired by the fresh air and open space of his new environment. "I think the lyrics are more thoughtful, though," says Fleming. "My Friend Fish sounded darker, but some of the songs were sillier."
As for the goofy album title, it's a family in-joke, Fleming says. "My dad and stepmom adopted a bunch of dogs at the same time. They're a little crazy. They jump off the walls. My dad would calm them by stating, 'Everybody's a good dog!'"