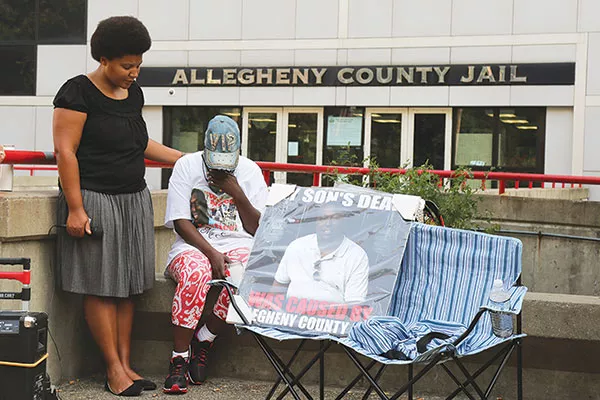 Corizon, the former for-profit health-care provider at the Allegheny County Jail, is finally gone, but some inmates say they are still feeling the pain.
Deven Turner, a 24-year-old inmate in jail custody, claims he has gone weeks without treatment to his injured left ankle.
"My mobility is limited [and] I pretty much hop around in pain constantly," wrote Turner in an Aug. 13 letter to City Paper.
Turner writes that he has requested treatment for his ankle with medical staff multiple times, including five written requests, and has attempted to get nurses' attention when they make their rounds to distribute medication. He adds that he has brought the issue up with jail officers on duty, but they threatened to lock him up for 72 hours in his cell if he persisted.
"I have gone through all the proper channels and regulations [for] trying to get medical treatment, but still nothing," wrote Turner. "The pain is unbearable, I need the proper medical attention for such a serious injury."
Steve Gruszewski, a former inmate in ACJ, was incarcerated in the county jail during the first week in August. He says he noticed the extent of Turner's injury when speaking with him in the dining hall.
"His foot was so swollen that it looked like it wanted to split open," he says.
Gruszewski adds that Turner's shoe had rips down the sides and center to accommodate his enlarged foot. While Gruszewski was in jail, he says, Turner was mostly confined to a chair for four to five days.
According to court documents, Turner was arrested on charges of theft from a vehicle and possession of an instrument of crime with intent, which is his only documented arrest in Allegheny County. He has been in custody since June 19. It is unclear how and where Turner injured his ankle, but Gruszewski remembers Turner saying he was injured during his arrest.
CP reached out to Corizon's director of external affairs, Martha Harbin, and she replied on Aug. 27 with this statement: "We are a physician-led company and our top priority is providing skilled and compassionate health care to our patients. … I can confirm Mr. Turner is receiving all medically necessary treatment."
Taro McCray, a current inmate in ACJ who knows Turner, called CP on Aug. 28. McCray said that Turner has not received medical treatment for his ankle, but he has been given crutches.
County spokesperson Amie Downs says the county cannot provide specific information relative to an inmate's medical condition due to federal law. (HIPAA privacy laws bar administration from divulging medical information without the patient's consent.)
On Aug. 14, the Pittsburgh Post-Gazette reported that a county judge ordered the jail health administration to provide necessary care to inmate Terry Crawford. The 43-year-old woman has a history of immunodeficiency disorders and was denied her medication, even though she requested attention from Corizon medical staff at least 10 times throughout the month of July, the paper reported.