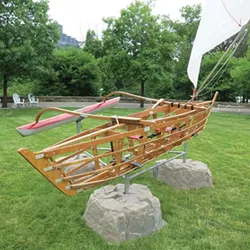 The Point, with its state park, is best known for hosting amusements like the Dollar Bank Three Rivers Arts Festival. With varying degrees of success, the four public artworks in this year's festival, by four visiting artists, offer historical counternarratives to the site's fairground atmosphere.
In text accompanying the installations, curator Nadine Wasserman (who's also a CP contributor) emphasizes the Point's colonial-era history of war and culture-clash. Rudy Shepherd's "Black Rock Negative Energy Absorber," for instance, is meant to address the bad vibes of the Point's "more sordid history," writes Wasserman, but also contemporary "prejudice, racism, everyday disdain." The craggy, 14-foot-tall sculpture (actually dark gray) stands unmissably on the park's city-side lawn. But while Shepherd's masked, body-suited interpretive dance at the Rock's June 13 "induction ceremony" was kind of a wash-out, everybody seems to grasp that the sculpture is partly tongue-in-cheek, partly in earnest. And, you know, it's worth a try.
Michael Arcega's "Baby: Corps of Rediscovery" is ambitious in concept, meant to roll back Lewis and Clark's imperial journey (which began in Pittsburgh) by sailing eastward through America's waters. Arcega's outrigger canoe is a beautiful object, but in its meditative but easy-to-bypass location near the Fort Duquesne Bridge, it's more visual aid for the text than complete work. "Baby" is surely more effective in action than on display.
The text is also key to understanding Fernando Orellana's "Confluence." It's 60 crude, hospital-style beds with sod mattresses — some adorned with dog sculptures — installed in the park's heavily trafficked reflecting pool. The work's lovely symmetries are contemplative — and wrenching, too, once you learn it memorializes the millions of Native Americans who died after encountering European explorers and colonists. (See rolled-up blankets: Think germ-warfare smallpox.)
Michelle Illuminato's interactive "Lost + Found Factory," in the old tourist-board cottage on Liberty Avenue, honors the Point's industrial and mercantile heritage by promising to create replicas of important objects visitors have lost. Artists sitting in the big glass front window cut, stitch and glue fabric and paperboard; users' order forms, with sometimes-touching stories about vanished heirloom jewelry and such, are available for reading. In the age of 3-D printing, you might think individual objects would feel less special; in the era of a purportedly "dematerialized" digital economy, you'd wonder how much objects matter at all. "Lost + Found" suggests the emotions that reside in tangibility.