On Feb. 21, members of Pittsburgh's Squonk Opera joined the weekly Tuesdays with Toomey protest, at Station Square, and they didn't come empty-handed. They brought, in fact, an extra set of oversized, two-dimensional hands to accompany an oversized photo of Pat Toomey's head — all part of a skit outside the U.S. senator's Pittsburgh office mocking his unwillingness to hold town-hall meetings with constituents. Puppet-Toomey stood mutely behind a cardboard podium whose official-looking seal featured not a proud bald eagle, but a clueless-looking chicken, complete with freshly laid egg.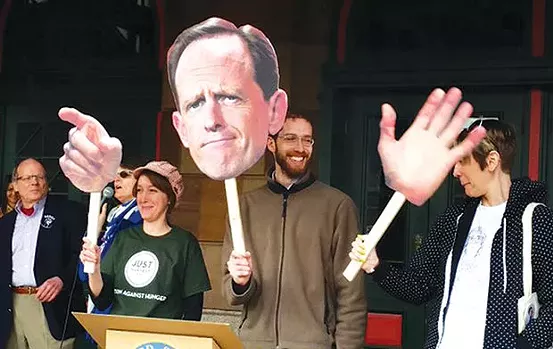 The puppet was the handiwork of Squonk's David Wallace, guitarist for the nationally touring performance and art-rock ensemble. Squonk co-founder Steve O'Hearn contributed homemade, 12-foot-tall hand-held signs reading "RESIST" in red, white and blue. And fellow co-founder Jackie Dempsey, clipboard in hand, helped sign in the 350 assembled protesters for the Tuesdays with Toomey mailing list.
Under the Trump administration, multiple weekly protests of the president, his policies and his allies, like Toomey, are the new normal. Artists are, of course, among the many citizens who've launched or stepped up their activism. From the performers who declined to play Trump's inauguration, to an Occupy Museums protest at New York's Whitney Museum of American Art, and poetry readings benefiting activist groups, artists around the country have been addressing the political climate with anger, resolve and creativity.
Locally, the three Squonkers have been especially visible. The long-running group's popular shows include surreal musical spectacles like
Cycle Sonic
, performed on giant tricycles, which debuted at last year's Three Rivers Arts Festival. But in December, on Electoral College voting day, O'Hearn, Wallace and Dempsey visited Harrisburg to join a protest imploring electors to reject Trump. O'Hearn continued Squonk's tradition of eye-catching costumes by wearing a tall Russian-style hat and holding aloft a large globe emblazoned with the word "NYET." Wallace's sign featuring half of Trump's screaming orange face and the word "Unpresidented" made Reuters and The Daily Beast.
Of street protests, O'Hearn says, "It's a very natural thing to do. It's like doing a show, really."
In Pittsburgh, a key site for artistic political protest is Artists Image Resource. The North Side gallery and workspace is known for its screenprinting open-studio nights, and political poster-making is common. But since the inauguration, users have been doubling down on protest signs, says AIR managing director Tresa Varner. A rush before the Jan. 21 Women's March was followed by events like a night for Planned Parenthood volunteers, who printed artist-designed postcards to send to elected officials, featuring Valentine's hearts with message like "Choice" and "My Body."
"We had over 150 people come," says Varner. "It was crazy." More such events are planned, including another Planned Parenthood night on March 3.
In early January, AIR issued a call for artists for Active Voice, a nonjuried exhibit seeking works responding to the new administration. In mid-February, entries were still coming in: AIR Executive Director Bob Beckman's warped rogue's gallery of Trump cabinet nominees. A woodcut-style poster reading "Your Heart is a Muscle the Size of Your Fist. Keep Loving Keep Fighting." Robert Raczka's handwritten sign "Too Many White People in One Place Creates Problems."
On Feb. 16, Randi Stewart, of Turtle Creek, delivered her mixed-media painting of a mountain that's a raised fist in front of a rising sun. Stewart, 29, said she hadn't marched herself but was inspired by protesters. "We're seeing the results of actively speaking out and speaking up," she said. "It's the most empowering period of my life."
AIR will wrap Active Voice with a March 11 closing reception. But Varner says there's enough interest that the group might extend the project.
Squonk Opera members plan to keep going, too. "I've never been this involved," says Dempsey, who is Squonk's keyboardist. "I've never called my senator ever, till after the Women's March," for which she traveled to Washington, D.C., with Wallace, her partner. Now she's making multiple daily calls to elected officials and has started a Forest Hills branch of Indivisible, a national nonprofit formed to resist the Trump agenda. "It's been really energizing," says Dempsey.
Dempsey says the prior extent of her political involvement had been door-knocking during presidential campaigns. Then came Trump. "It's the first time I've actually lost sleep over politics, or even had dreams and nightmares about politics," she says. "It's hard to think about much else."
Squonk has never made explicitly political work. Will this newfound activism be reflected in its next show, scheduled for 2018? "It would be a big decision for us to make," says Dempsey. But, she adds, "The way we feel right now, it would be almost impossible for us not to be political."