Think you've seen all museums have to offer? Well, maybe not. The artist, musician and provocateur known as Genesis P-Orridge (it probably sounds better in Britain) and Lady Jaye Breyer, reacting against perceived limitations of traditional love, attempted to merge their identities in a manner that many would consider extreme. (They're the subject of the 2012 documentary The Ballad of Genesis and Lady Jaye.) In the process, they became BREYER P-ORRIDGE, and from that union issued most of the 100-plus works in Genesis Breyer P-Orridge: S/HE IS HER/E, an exhibit at The Andy Warhol Museum.
Genesis P-Orridge was a pioneer with the industrial-music band Throbbing Gristle and later the punk-ish Psychic TV. He was also a member of COUM Transmission, a controversial art collective known for its early contributions to performance art in the 1970s. In addition to photo documentation of performances by COUM Transmission, the exhibition includes works created by Genesis P-Orridge working solo in the '80s and early '90s. These include examples of mail art, an anticommercial movement that developed out of Dada-inspired Fluxus in the '60s, wherein artists created an international network by sending mostly postcard collages to one another, sometimes testing the limits of postal services. Genesis P-Orridge thus ran afoul of British authorities, who charged him with mailing indecent and offensive material — charges that ultimately led Genesis to flee to New York City, where s/he now lives.
Genesis and Lady Jaye met in 1993, and the exhibition pivots on their radical "Pandrogyne Project," in which they sought to merge their identities through plastic surgery, hormone therapy, cross-dressing and altered behavior, so that they might become the pandrogynous creation BREYER P-ORRIDGE. The Pandrogyne Project appears to be driven by idealistic desire rather than a felt need for gender reassignment. Pandrogyne, or all-inclusive sexuality, is theorized as akin to positive androgyny or hermaphrodism, according to the indispensible wall labels and video featuring BREYER P-ORRIDGE. The exhibition calls for backstory and explication, if only to sort out the shifting names and ambiguous pronouns, including the exhibition title, which conflates Genesis P-Orridge and BREYER P-ORRIDGE into GENESIS BREYER P-ORRIDGE.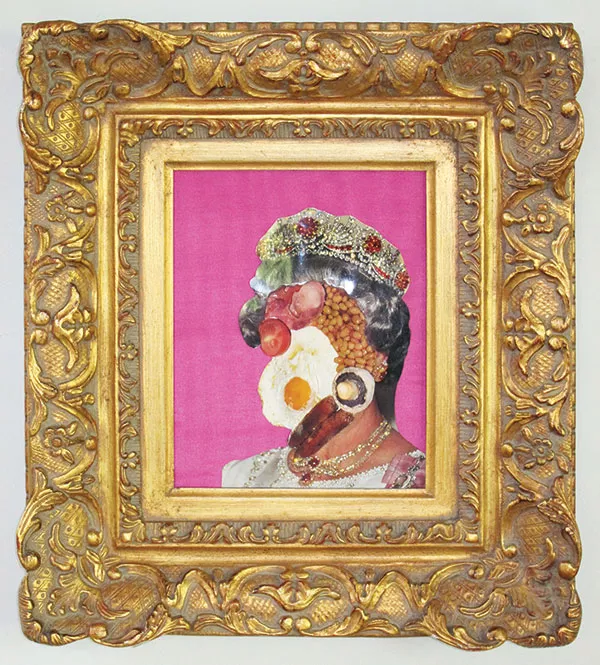 The bulk of the exhibition consists of "cut-ups," collages inspired by William S. Burroughs' revival of the surrealists' technique, which in BREYER P-ORRIDGE'S hands are both a metaphor and a medium to explore transformation and reconstitution. The collages combine fragments of photographs, found images and text in ways that appear variously controlled or happenstance, but always freely experimental. In some cases, the cut-ups seem to intentionally stop making sense, though in others there is a clear erotic or political intention. Works such as "Thee Mad Hatter, from the Royal Ascot Series" (2010), disrespect the Queen, the Union Jack and even the traditional English breakfast. (Though Lady Jaye died in 2007, later works continue to be credited to BREYER P-ORRIDGE.) Blasphemy is a recurring presence, including a set of altered "holy cards," which are mass-produced devotional pictures. "Transgen Sacred Heart" (2003) is an image of the iconic Caucasian Jesus with breast implants added, presumably an unfriendly amendment in the eyes of the Vatican.
A series of sigils, or seals, use collage and assemblage to create works that aspire to magical powers related to shamanism. "Burns Forever Thee Light" (1986) is structured around radial symmetry with plenty of human figures and ancient references. Some, such as "P-Androgeny Sigil" (1995-2001), have reliquary aspects, including fetishistic strings of hair and mystical overtones. Sex repeatedly appears as a vehicle for transcendence, with collage being a perfect medium for piling up bodies in orgiastic scenes. There's a strong thread of religious imagery running through the exhibition, including shamanistic religiosity and even blasphemy, which in its way takes religion seriously. More recent digital montages, such as 2008's "Snoflakes DNA (Clouds)," sacrifice gritty immediacy in favor of polish, while a gallery of Polaroids are generally simple and direct, more studies than opuses.
Whatever your thoughts on Genesis P-Orridge and Lady Jaye Breyer's idiosyncratic pursuit, this is not a referendum on unconventional sexuality or elective cosmetic surgery, though it can be described as a celebration of difference and self-determination. While transgender has been increasingly visible and vocal in public life, the fact that the Pandrogeny Project is apparently not based upon a compelling need for gender reassignment is what's surprising. Rather, BREYER P-ORRIDGE were driven by an extreme form of idealistic romanticism. Which means that this vigorous and challenging exhibition is actually about love.