Terrence Murphy got interested in Native American culture as a kid visiting his grandfather's cabin up in Pymatuming. There, he says, near an old Indian burial mound, "We'd find arrowheads all over the place."
These days, Murphy collects his arrowheads online. But he's still into Indian mounds: He builds them, or at least his small-scale interpretations, meant to recall the area's Native American past.
So far Murphy has constructed three "replacement Indian mounds" or "neo-sacred earthworks." The earliest was begun in a grown-over lot in California-Kirkbride, in 2007, when Murphy lived down the street. Atop a weedy rise at the corner of North Charles and Irwin streets, right by Columbus Middle School, sits a yard-high mound about 5 by 18 feet. Murphy and friends built it with compostable material they collected in the neighborhood, including coffee grounds and pine cones. Inside, Murphy has buried arrowheads. Nearby stands his small hand-painted sign, reading "North Side Indian Mound."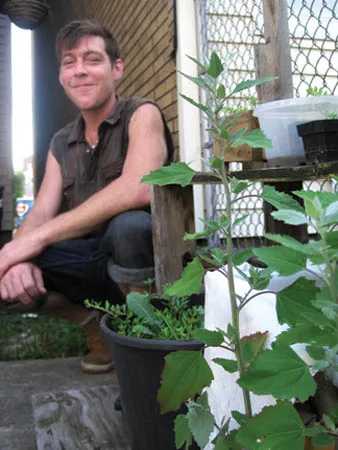 Murphy, 32, grew up in nearby Deutschtown and now lives in Bloomfield. He wears an arrowhead necklace and bicycles everywhere, and his first words when you say something he finds interesting are a quick "whoa-whoa." The mounds -- two more inhabit wooded areas in Polish Hill -- are his guerrilla comment on "the way the city treats its history."
"You go to any other cities, they have Indian mounds," he says, referring to sites in Ohio and Wisconsin. "Ours is a damn rock quarry." He's referencing the McKees Rocks Indian Mound -- Pennsylvania's oldest and largest such mound -- which is located on the grounds of an industrial site. "That should be part of the park system."
Just as the original mounds, Murphy's are perpetual works in progress. Murphy, a dishwasher, often works on the North Side mound in daylight. "Cops came up once and said, 'We just see someone with a shovel hitting the ground, we want to make sure everything's all right.'"
Though it conjures a vanished past, in many ways the North Side mound complements fancier neighborhood gardens, such as those on the Mexican War Streets. Moreover, a manicured, city-sponsored Green Up Pittsburgh garden sits 100 yards away, and a landscaped Western Pennsylvania Conservancy plot occupies a stretch of nearby Brighton.
"We're pretty lucky to live in a place like this … not barren, not flat and boring," Murphy says. And full of vacant lots: "You can't just build an Indian mound in California."