Yes, you can and should sometimes judge a book by its cover. Or, say, an album cover so well designed that when fans hear the title, they picture the artwork on the sleeve long before the lyrics start popping into their heads.
It's what graphic designers spend lifetimes mastering: the art of combining typography and visual elements to pull people in and take notice of a piece. Like the brilliant psychedelic pop art on the Beatles' Magical Mystery Tour. Or the iconic smoking skeleton spinning a record on the Grateful Dead's Skeletons from the Closet. Or the photo collage art on the Rolling Stones' Exile on Main Street.
Artist John Van Hamersveld, whose first-ever solo museum show Era of Cool opens this weekend at The Westmoreland Museum of American Art, is a testament to the talent it takes to master the craft, designing not only those aforementioned covers, but hundreds of other albums, movie posters, logos, and various mediums for the past six decades.
Van Hamersveld laughs modestly when referred to as a celebrity graphic designer, but after working directly on projects with so many famous musicians since before turning 30, it's something that's hard to deny.
One might say he was the Shepard Fairey of his day, both men contemporary artists with similar styles, which isn't accidental. The two are good friends, despite the nearly 30 year age gap, according to Van Hamersveld. "He really loves what I do," he says, sharing that Fairey has told him his Pinnacle concert poster of Jimi Hendrix, a silhouette of the musician that turns his afro into an electrifying pattern of waves giving the illusion that his hair is alive, was a huge influence on the street artist.
"Before discovering the Pinnacle Hendrix poster, I had never thought consciously about what constituted, or how to make, a perfect image," Fairey shared on his website in 2013. "John's iconic image gave me an epiphany that sharpened my focus as an artist."
Fairey even designed an Andre the Giant postcard after the original Hendrix image. "It's an illustration with the perfect balance of designed restraint and idiosyncratic, organic style," he posted on his site.
But it's Van Hamersveld's classic 1966 silk-screened poster for surfing film The Endless Summer that might be his best known work, with silhouettes of three surfers silk-screened on top of a fluorescent background of pink, red, and a yellow sun.
He credits Pittsburgh's own Andy Warhol, who also worked with silk screening, as an inspiration.
"He was a tremendous influence on my education," says Van Hamersveld. "When you were in art school in the '60s, it was print-making, making sculpture, throwing pots, painting, and drawing. Andy Warhol came along, and it was movies, photographs, printing, distribution, artifact shows."
Barbara Jones, chief curator for The Westmoreland, said she learned about Van Hamersveld because her assistant Bonnie West's uncle was a collector of some of his posters and album artwork. "We thought, with all the hot colors, it would be a great show for the summer months and one which we could do a lot of programming around."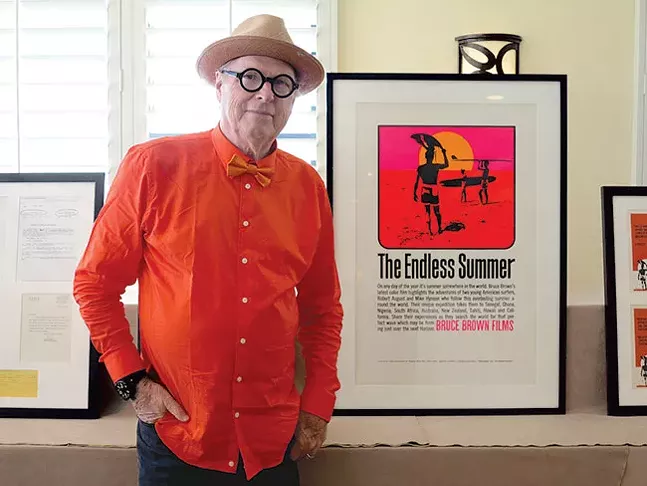 The exhibit opens on Sat., July 20 with The Endless Summer Beach Party, a celebration of Van Hamersveld famous poster design. In addition to a screening of the film, there will be beach music by local theater company Stage Right!, as well as food and other activities. Van Hamersveld himself will make an appearance later this year in October for a conversation with Jones.
Era of Cool is the first graphic design exhibition at The Westmoreland. With the accessibility of online design programs and apps granting almost everyone with a computer the ability to become an amateur artist, graphic design can sometimes feel like an underappreciated art form.
But Jones predicts it will be a fun exhibition for visitors. "Van Hamersveld's work crosses over and makes the connection between commercial and fine art," she says, adding that there's so much to see, including 40 different album covers and even a surfboard.
As for the artist? "I hope everybody shows up," he says, "and I hope they understand it."