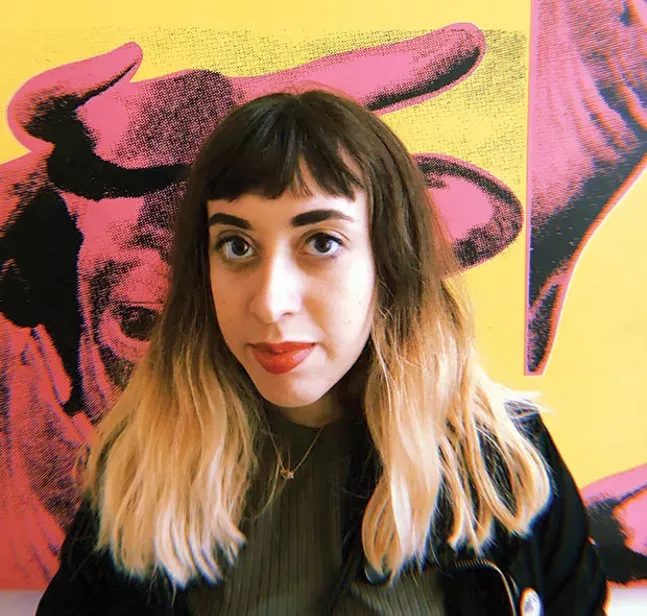 Local illustrator and artist Ashley Olinger created a vibrant cover for City Paper's Summer Guide issue. She is back in the fold to participate in a live painting of newspaper boxes — we're calling it an "Artbox" — as part of Three Rivers Arts Festival. We talked to Olinger about her career, painting live, and the state of Etsy shops.
How did you get into illustrating?
I went to school for design and I took an illustration class my very last semester and ended up loving it. Whenever I graduated, I realized I wanted to do this.
Your art features fruit and plants as well as pop culture references. Where does your inspiration come from?
I grew up watching a lot of comedy, so that's always been a big inspiration to me. I try to put that humor into my work because I feel like it makes it more relatable. I really like illustrating everyday things and injecting them with color to make them more interesting.
Do you feel like this is a good time to be selling easily purchasable and accessible art on Etsy?
I think we're in a weird place. I see a lot of people that capitalize on this renewed feminist movement and the political climate and I don't judge anyone for that — but it already takes over so much of our life.
Do you feel like there are artists capitalizing on the political climate?
I do feel like there are a lot of people that are making it based on their own experiences. But there are a lot of shops that sell things that just say "depression" and "anxiety" and that starts to bug me.

Have you ever painted live in front of people before?

No. I was a little apprehensive at first, but I'm trying to do new things.
Do you have any plans for how you'll paint the box?
I think the Pittsburgh theme always wins people over, but I think something super bright and colorful — probably some fruit.
Is art your full-time job?
I went full-time about a year ago. I ended up quitting my last design job and I got a job as a barista part-time. I started building up a client base while I was there and quit after a few months.
What kind of clients do you have?
I've been getting a lot of people that are local bloggers. Those have been my favorite because I like working with creative people. They always have the best ideas.