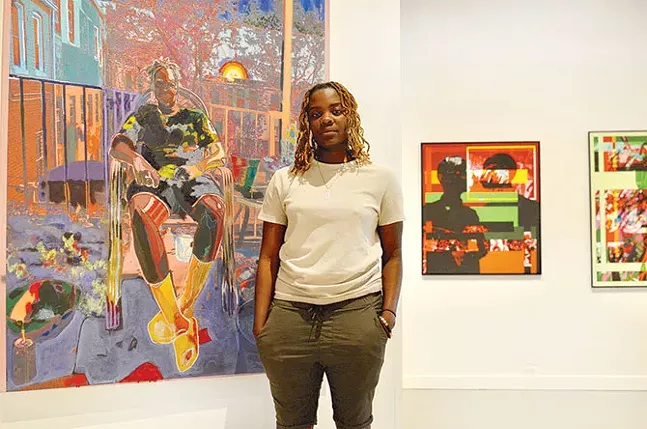 Amani Lewis, artist
Tell me what you're wearing today and why.

Today I am wearing a beige H&M shirt with shorts that can be pants, you zip the legs on to make it a chino jogger. Since it is hot, I took them off. I found these boots in my closet yesterday, which I have not worn in so many years. They are my art boots, the first Timbs I bought myself. I used to go in the studio and wear these, that's why they are so worn down, but I like the look with the beige and green. Oh, and some hi-tip socks.
Also tell me about your jewelry.

My bling. This bracelet is from my favorite teacher from MICA [Maryland Institute College of Art] who got it in Africa — it's supposed to protect you. I said to her, "Oh, I like your bracelet." And she said, "Oh I think you might need it more than I do," took it off, and gave it me. And this one, Murjoni [Merriweather], my best friend and collaborator, had a birthday party and someone was selling bracelets, and this one really called out to me. It is like a mango, green, beige, and blue beads with this black rock.
The necklace?

The necklace is from my Nana who went to Israel and got my name in Hebrew. Murjoni made the earrings.
So what brings you to Pittsburgh?

Kilolo [Luckett, curator] offered me a solo show at the August Wilson African American Cultural Center, here in Pittsburgh. The main series I worked on was Negroes in Trees, which I started after an exhibition in New York City in May. ... It is really like a retrospective of my work from the moment I graduated from school, [work made during] the uprisings in Baltimore [after the murder of Freddie Gray], and then started collaborating with folks from Baltimore as well.
When was the first sense that art and artists exist and that you should be one of those people?

I think for me it was the way I saw the world that let me see that I was an artist, because the type of conversations I would have, I would always have a different or added perspective that people weren't really thinking about. I always thought because I have a different understanding of how I relate to my environment, to other people I was always conceptualizing those conversations and ideas as well. I always had a visual of some of the things I was speaking about; it was like math — art was like math, so I always had an equation I was working out in my head.
How would you describe your style/styles?

Goodness, they have changed over time. In high school, I was wearing TJ Maxx clothes. I didn't get to buy my own clothes, I just put them on and went to school. In college, I worked at a clothing store called PacSun; I had a chance to curate my work. I was going for a more dom look, earring motor-jeans, joggers, collared shirts with sweaters. I can't even explain, like prep boy then more skateboard style. Now it is more like chilling, raggedy, ashy, warehouse ... [Ambrose looks over and shakes her head] ... Shut it. [Laughs] I don't care.
I am writing "ashy."

Oh, you have to keep "ashy" in the piece. It is like the Kanye West look, the line he did with PacSun.
Do you have a special gift to yourself that you wear often?

I have this black muscle tee that I wear; it fits my body well. ... I wear that with black pants, brown belt, and white or brown shoes. My hair is golden right now, so I like it when my hair and shoes match, like balanced ... black on black, black is my color. All black every day.

www.AmaniLewis.com, IG: @AmaniLewis_