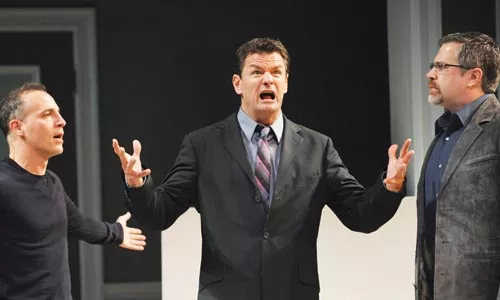 Imagine: Your friend invites you over. You've known this friend for 15 years, and you can tell he's excited about something. When you arrive at his condo, he unveils a painting. But it's only a white canvas with a few off-white streaks painted across it. The dabs are so faint that you can see them only upon close inspection. Then your friend admits, proudly, that he purchased the work for $50,000, cash.
What do you say? If you're Marc, you laugh in his face and call the painting "a piece of shit." And that, in short, is the story of Art, the 1994 comedy by Yasmina Reza, produced here by the Pittsburgh Public Theater.
But Art is more than a quibble about whether concept paintings are worth exorbitant prices. It's also the story of three friends drifting apart. Each finds the others pretentious and petty, but with each attack, he exposes his own weaknesses as well. Which is the least contemptible -- the neurotic, the dilettante or the judging provocateur?
In short, Art is one of my favorite scripts, and the Public has staged the best production I've ever seen. The Public took a risk -- staging this small and intimate story in its vast auditorium. Art doesn't require much, only three chairs and a coffee table. But Anne Mundell's set is elegant nonetheless, and the generous space allows these three hotheads to spread out, to take corners between verbal duels.
The beauty of Art is its cutting wit -- nearly every line smacks of insult and belittlement, even the gilded pleasantries. For a play written in French, Art translates eloquently into English, but it takes exceptional actors to make the highfalutin language sound natural. As the arrogant Marc, Rob Breckenridge's condescension knows no bounds. Darren Eliker plays Serge, the aspiring art-collector, as a self-satisfied prick. But both characters -- and actors -- are strangely charismatic. There's something riveting about watching snobs explain why they're not pretentious.
But Art's most endearing personality is Yvan, played here by Pittsburgh native Harry Bouvy. Yvan is a fidgety diplomat who just wants everybody to get along. Yvan's only sin is not picking a side, but as Serge and Marc convincingly argue, it's a bigger sin than you'd think. But that's all subtext; the real joy is hearing Yvan's manic monologue in the middle of the play -- a titanic tirade against everything going on in his life, and one of the funniest in Broadway history. If Bouvy's delivery doesn't make you cry with laughter, you just don't appreciate Art.
Art continues through June 27. O'Reilly Theater, 621 Penn Ave., Downtown. 412-316-1600 or www.ppt.org