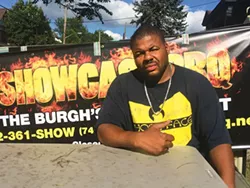 How many businesses do you know of in your neighborhood that are African-American owned? How many do you frequent? This is the question asked by One Large, a project blending art, economics and social awareness. 
Working with a $1,000 Sprout Fund grant, project organizers Joy Katz and Cindy Croot gathered 100 participants at April's Open Engagement Conference, an international conference on socially engaged art held this year at Carnegie Mellon University. Each participant pledged to spend his or her $10 from One Large at a black-owned business in his or her neighborhood within two weeks and document the experience. The stories were collected and posted online on June 1 at www.onelarge.org.
The stories range from terse, Yelp-like reviews of the businesses themselves to thoughtful considerations on feelings of discomfort and intrusion. Some participants — many of them white — said they felt alien or invasive in a business serving the black community.  
"Participants spent their $10 in dozens of places," from Montreal to Jackson, Miss., Fargo, N.D.,  and even Cairo, Egypt, writes Croot, who teaches theater at the University of Pittsburgh, in an email. "Many were surprised by how difficult it was just to find a black-owned business. This in itself became an object lesson. Two-thirds of our participants had to travel at least one mile from their home in order to accomplish the task, and about one-sixth traveled farther than five miles. Some had to go to an entirely different city."
According to the NAACP, the average dollar circulates in an African-American business community for only six hours. This "leakage" means most of the money coming into black communities leaves just as quickly, rather than helping those neighborhoods reinvest in themselves. 
"[One Large] creates a very, very small interruption in a very powerful flow of money that otherwise only goes one way — out of black communities. So the scale of it is super modest ... but 100 people did it, so it's a 100 percent successful interruption," says Katz, who's also a poet.
One local business that appears in the One Large stories is Showcase Barbeque, in Homewood. Owner Andrew Allen said he had mixed feelings about the project. "The grant money is still going to leave in a couple of hours," says Allen. "It's a good gesture but it's kind of like a study, because it hasn't been embedded [in the African-American community] to continuously spend."