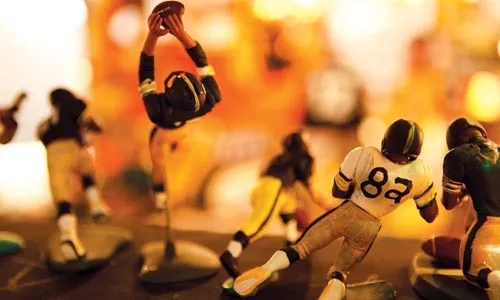 The first thing you notice, as you walk into Carnegie Mellon University's Miller Gallery, is that this exhibit is big. On the first floor, there's a huge screen playing Steelers fan videos -- four videos at a time, in split-screen. There's also a gift shop and information desk, and if you ask the attendant whether he's weary of hearing "Here we go, Steelers," he grimaces and says, "Well, yeah."
Upstairs, you find a voluminous loft, every wall of which is covered with maps, pictures and artifacts. The floor-space is taken up with swaths of fake-grass and mini-bleachers. In the middle of the gallery, an entire shack has been built out of cheap lumber, and every inch is packed with Steelers memorabilia.
And yet, Whatever It Takes was assembled by only two people, CMU art professor Jon Rubin and gallery director Astria Suparak. They worked with a pair of assistants, but for the most part Rubin and Suparak conceived of and put together the installation themselves. They painted an entire wall with a mural of "Steeler Country," a world map that shows only countries with an ample number of Steelers bars. Such friendly nations -- like China, Brazil and most of Europe -- are painted in gold. Everywhere else, including oceans, is painted black.
"I've never been in a city where the sports culture was so dominant," says Rubin, who has lived in many places, including Oakland, Calif., Columbus, Ohio and his native Philadelphia. "It crosses all demographics. The popular culture of Pittsburgh is Steelers culture."
Rubin and Suparak brewed the idea for a Steelers-themed installation this past spring, and they have created the exhibit, piece by piece, throughout the summer. Rubin describes himself as an avid sports fan, while Suparak is "interested in the cultural phenomenon of sports." For example, she notes, "When you show up at [Pittsburgh International Airport], you're greeted by George Washington and Franco Harris.
"Sports fans are as active cultural producers as any other kind of hard-core fans," she adds. "Trekkies, for example."
Whatever It Takes is a good-humored exhibit, but Rubin and Suparak are determined to reflect Steelers fandom "without decontextualizing it." In other words -- document, but don't make fun. A wall of photographs shows Steelers tattoos, in all their range of colors and patterns. Some are straightforward logos, others picture busty women and Terrible Towels. But all of them are authentic.
Rubin and Suparak carried out a surprising amount of legwork, soliciting photos and artifacts from notable Steelers fans around the globe. Most objects in the gallery are on loan, personally delivered by their owners. The curators distinguish their exhibit from a museum because the displays are temporary. "Museums have a collection," Rubin explains. "We're presenting a moment in time. We didn't want something static, things under glass."
Their exhibit's fan-crafted collections and costumes are astounding -- especially the army of figurines created from plastic -- but what's most remarkable about Whatever It Takes is its interactive element. Visitors can videotape themselves "catching" the "Immaculate Reception," as recreated in a full-size diorama. Or they can converse with the patrons at a Steelers bar in Rome, Italy, thanks to a webcam and live feed.
Such gestures are familiar to the curators. Rubin has executed such projects as the Waffle House, a functional diner in East Liberty that also films and broadcasts interviews with patrons. Prior to becoming director of the Miller Gallery, meanwhile, Suparak curated more than 300 shows around the world, working in a range of media.
Here, their goal is to attract not only students and culturati, but workaday Steelers fans as well. The curators expect their exhibit to evolve over time; the amount of paraphernalia will grow, fan-footage will be added. The installation is organic, reflecting the enthusiasm of the people who visit.
"I think the word's going to get out," says Rubin. "Not just to sports fans, but to people who are curious about culture in general."
Whatever It Takes continues through Jan. 30. Miller Gallery, CMU campus, Oakland. 412-268-3618 or millergallery.cfa.cmu.edu.