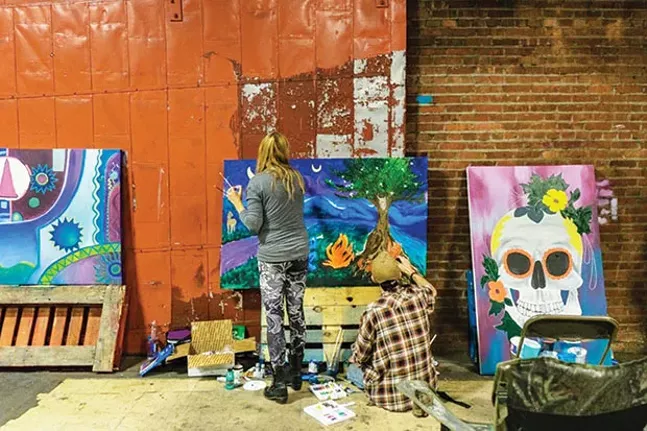 At 21 years old and all grown up, Art All Night is leaving home.
This year, Lawrenceville's free, uncensored, non-juried art show moves to South Side's Highline.
"We worked really hard to find a place in Lawrenceville," says Art All Night's self-defined "publicity poobah" Kate Bechak, who explains that the event requires a minimum of 50,000 square feet.
When the all-volunteer Art All Night began in 1998 with 101 pieces of art and 200 attendees, part of the motivation was to focus attention on one of Pittsburgh's best kept secrets: Lawrenceville.
Moving from one empty warehouse to another for 20 years, Art All Night has steadily grown with hundreds of volunteers and participating artists, and thousands of visitors of all ages and artistic abilities. The event's philosophy is "everyone is an artist."
This year, two stages will accommodate musicians (already confirmed are Timbeleza and Col. Eagleburger's Highstepping Goodtime Band) and other performers, including the interactive Dream Grimoire. Some 50 to 60 artists will create collaborative paintings on site, with two people working on each piece, explains Art All Night art captain Jennifer Bechak.
Outside, glassblowers from the Pittsburgh Glass Center will demonstrate their talents. Additionally, master woodworker Joshua Craig will recycle industrial pallets into art. Inside, the Video Lounge returns to showcase short original films and animation.
Children's activities (4-8 p.m. Saturday and 10 a.m.-noon Sunday) include both collaborative art and individual projects that can be taken home, says coordinator Wendy Coester. Part of this entails three large installation pieces: two walls — one solid and one of snow fencing — on which children can weave colored yarn or other materials that strike their fancy; and a mosaic by number, pasting bits of colored paper on pre-designated areas.
Old favorites like button-making and silk-screening return. The Cardboard Village comes pre-constructed this year, awaiting decoration with stickers, markers and the like. There's also a new emphasis on art, not just crafts, and kids will be able to learn about artists and their techniques. There's also a "clay-dough" table that lets participants try out sculpting.
Dress appropriately. "Part of art is getting messy," Coester says.
To participate, artists, videographers and musicians can register at www.artallnight.org. Drop off ready-to-hang art from 10 a.m. to 2 p.m. on Sat., April 28.
As for how to get to the new location, the entrance is at the northeast corner of the Terminal Building, near the railroad tracks and the bike trail. Park on the street or between the railroad and the river.