Adding alcohol to ice cream is not a particularly novel concept. Popular ice cream brands like Häagen-Dazs and Ben & Jerry's have debuted their own flavors blended with rum and bourbon. Boozy shakes have become a burger joint solution to the choice between beer or milkshake. Floats are switching out root beer for red wine.
Arsenal Cider House has created its own version of the drunken dessert: alcoholic sorbet.
The Civil War-themed cider house and winery has a long bill of spirits. At its Lawrenceville cider house (Arsenal also has locations in Wexford and Finleyville), a chalkboard is covered in tiny writing. There's barely enough room for all of the draft ciders on one board.
But behind the bar sits Arsenal's real champion: the ice cream maker.
When I visited, the sorbet of the day was cherry mead. Armed with a cup of cider and its frozen sibling, I headed into the sunny beer garden to eat the sorbet before it melted.
The sorbet was like a tastier version of a frosé (frozen rosé). Arsenal listed it somewhere around 8 percent alcohol per volume — it definitely had a kick — but didn't taste particularly boozy. It was fruity, crisp, and super sweet.
Market Street Grocery offers another way to eat, and drink, your dessert.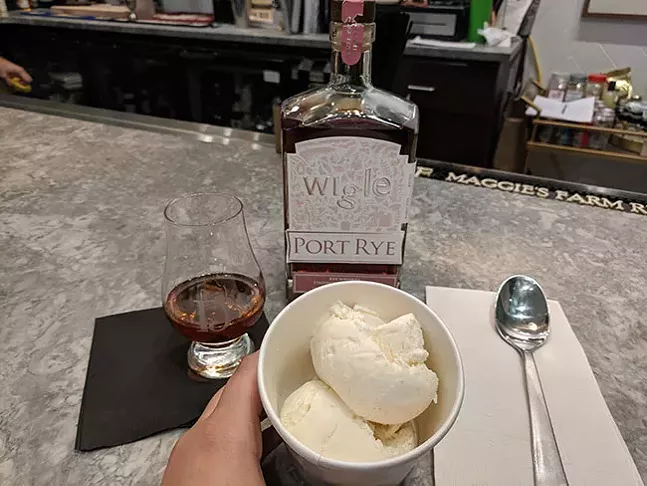 Pittsburgh Ice Cream Co., the city's farm-to-cone creamery, used to host a scoop shop on the end of the deli counter inside Market Street Grocery. Recently, the specialty store, wine bar, and coffee house bought out the small-batch creamery.
Market Street Grocery is currently in the midst of revamping its ice cream program (kitchen changes have led to some delays), and intend to continue the Pittsburgh Ice Cream Co. tradition of churning with Wigle Whiskey. They have plans to use both ingredients and spirits from the local distillery.
When I stopped by on a weekday afternoon, there were only two flavors available, and none of them featured a spirit. But the grocery offered a compromise.
With a bowl of Market Street's vanilla ice cream in hand, I took up a seat at the store's bar.
The bartender and I decided that Wigle's Port Rye Whiskey, a rye finished in port wine barrels, and the market's sweet, simple vanilla would make a great pair. We were right. Wigle's rye had a spice that melted into the vanilla, the burn just barely cutting through the creaminess. I cannot recommend this combination enough.
Market Street Grocery's ice cream program is on its way, but for now, there's nothing wrong with grabbing some ice cream and heading straight to the bar.