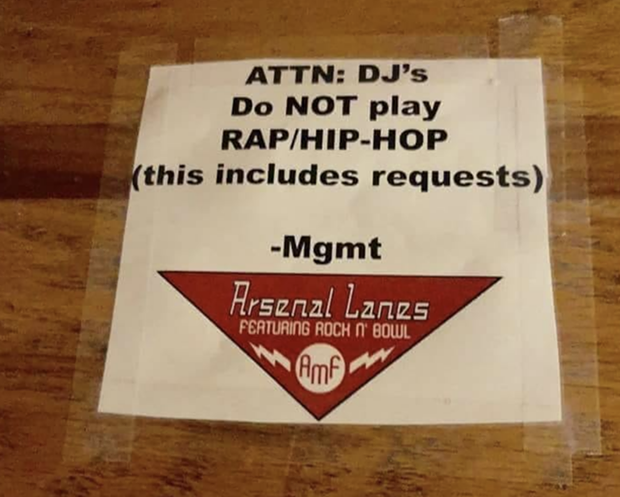 A DJ says he was fired from
Arsenal Bowl
after he posted an image of a poster forbidding DJs from playing rap or hip hop at the bowling alley.
Last Sunday (Aug. 19),
Peter Guellard
, a former part-time DJ for the well-known Lawrenceville business, posted a Facebook photo of a sign at Arsenal that reads "ATTN: DJ's Do NOT play RAP/HIP-HOP (this includes requests) – Mgmt." Guellard, who started DJing at the bowling alley in October 2017, says he was fired by Arsenal's management for sharing the photo.
However, he later removed the post after another Arsenal DJ, who Guellard says recruited him for the gig, asked him to take it down because he "felt threatened by the management and he's afraid of losing his job."
"So basically the reason I took down my original note was that I don't this guy to lose his job, because he claims it's his livelihood," said Guellard.
He declined to identify the other DJ.
But social media users managed to copy and spread the image before it was taken down, resulting in swift backlash against Arsenal. Since yesterday (Aug. 20), the Arsenal Facebook page has been flooded with negative reviews accusing the management and employees of
racism
.
The Arsenal Yelp page has several new one-star reviews that also accuse the business of racism, many of which directly address the sign and Guellard's firing.
City Paper
reached out to Arsenal for comment on Guellard's firing, but Arsenal has not responded.
One creative Facebook user wants to
protest the policy
by playing the new album by rapper Young Thug outside of Arsenal.

Before Guellard spoke to
CP
, an Arsenal employee who declined to be identified said he had no knowledge of the sign. When told that a photo of the sign was being posted by commenters on the Arsenal Facebook page, he replied, "There's a lot of things on Facebook that's not true. Somebody could have made up a picture. I don't know. But what you're telling me is not true."
He added that Arsenal does not handle its own social media accounts.
After sharing the photo of the sign to his Instagram account, Pittsburgh DJ Selecta – real name James Scoglietti – received a comment from Arsenal that stated, "Our goal is to create a warm and welcoming environment for all customers, and we have zero tolerance for discrimination of any kind. Our entertainment is intended to capture the fun from the heyday of the classic rock bowling era. With that in mind, we generally focus on rock and roll music and closely related genres. We are looking into this specific situation now to confirm exactly what occurred, but moving forward, we'll strive to ensure that any communication to DJs focuses on what the evening's bowling experience should include instead of exclude. Thank you."
The statement was also shared on the Arsenal Facebook page.
Guellard, who's a musician and guitarist for the bands Venus in Furs and Løve Dümpster, says being fired from Arsenal doesn't bother him because he only DJs as a hobby, but stresses that he's "very, very upset" that they told him to take down the post after they fired him. He also believes the bowling alley did not properly address the situation.
"I would like a total retraction from Arsenal Lanes because what they posted yesterday was laughable," says Guellard. "They didn't address the racist issues at all, and the note says it all. It has their logo, it has their name. If they wanted the DJs to not play music with explicit lyrics they should have said that and there wouldn't be a problem. Also, if there was a theme music for the place, all they could have said was just play rock n' roll music from the 1950s, I would be totally fine with that. But apparently they want to make it known that they don't like music that is mostly identified with African Americans."
He also claims to have witnessed other examples of possible racist behavior at Arsenal, including hearing skinhead music being played in the bowling alley before his shift started.
"I really didn't make anything out of it, but then after this happened, I kind of connected the dots," he said. "But then, you know, that could have been an accident by the bartender who plays from Pandora or whatever. I don't know."