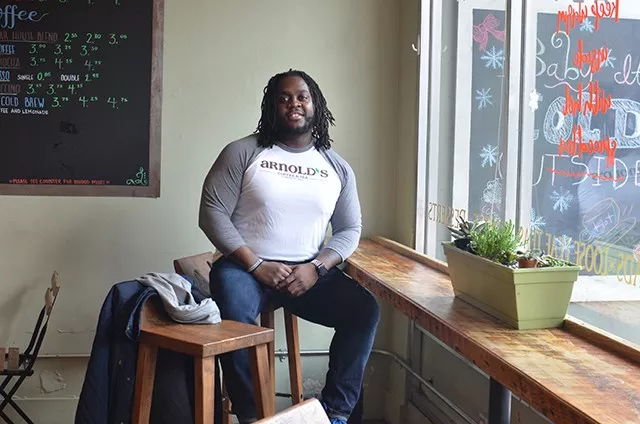 After a considerable amount of community support and a second chance to stay in the North Side, it was announced today that Arnold's Tea is facing eviction. The cafe and restaurant was opened in 2015 by Verna Arnold, a retired Pittsburgh Public School principal, and was taken over by chef Claudy Pierre in October 2018.
According to a press release from the Historic Deutschtown Development Corporation (HDDC), which co-owns the building that houses Arnold's Tea, the landlords filed for eviction over Pierre's "failure to pay rent, failure to pay water bills, and for bouncing two additional checks."
HDDC president Barbara Burns said she wanted Arnold's to succeed, but that her organization's nonprofit status makes it difficult to not collect rent, since that means the group will struggle to pay its own bills.
"We had high hopes for this business, but even with additional time, a new property management liaison, and [four] clear conditions, the tenant has failed to meet the basic obligations of the lease," said Burns in a press release. "We must be good stewards of this community asset."
As
City Paper
reported in September
, Pierre and the HDDC have been butting heads over the struggles at Arnold's. Pierre told
CP
he had paid all his back-rent, plus any late fees.
However, the Northside Leadership Conference (NSLC), which co-owns the building, said Pierre consistently fell behind on rent and had five checks bounce during in tenure running Arnold's. NSLC also claimed that Pierre was not properly disposing of trash, leading to vermin problems for the tenants that live in apartments above Arnold's.
Pierre denied those claims and believed the rat infestation claim is a "last-ditch effort to attack the character or the integrity of the space." He felt he was being pushed out. A January inspection from the Allegheny Health Department didn't mention any vermin problems. But, an inspection from Nov. 19 shows Arnold's had five overall health code violations, including a low-risk pest management violation where three dead rats and rat droppings were found in the basement.
Pierre did not immediately return a call for comment on this story.
According to the press release, HDDC noted they had received eight bounced checks from Pierre during his tenure, up from five through September. Pierre was given a
second chance in October
, but HDDC said he was unsuccessful in providing timely payments.
The group filed for an additional claim for nearly $900 in delinquent payments that Pierre owed.
HDDC said the group recognized the community support for Arnold's, which gathered more than 3,200 signatures on an online petition, and saw politicians like incoming Allegheny County Councilor
Liv Bennett
(D-North Side) come to its aid. According to the press release, there has been considerable interest in space that Arnold's now occupies, and the group expects to find a new tenant for the storefront.
"We are building a business district that serves all Northsiders and visitors," said Burns in a press release. "This building is key to that vision, and while we are saddened that the current tenant did not succeed, we are confident that a new tenant will prosper while serving this diverse community."