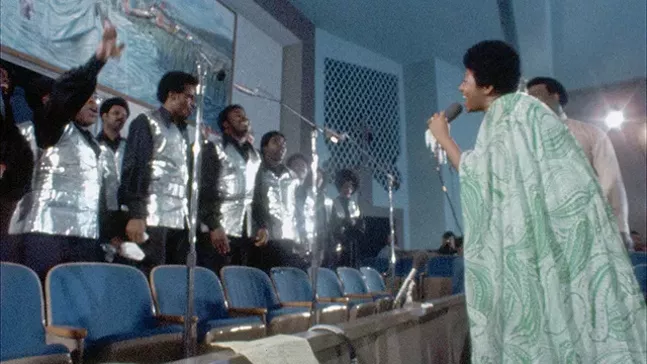 If there was any doubt about Aretha Franklin's impact on American culture (and there wasn't), it was underlined during her funeral last August, which lasted for nearly nine hours.
Former presidents, other musical icons, church leaders, directors, producers, and more filled the room, gave speeches, and sang to honor Franklin. Everyone knew she had a gift, and lucky for us, she's still giving. In her last years, Franklin fought against the release of Amazing Grace, the film version of the 1972 live album of the same name. Now, it's been released for the first time 47 years after it was originally filmed.
After Franklin died, her niece gave permission to release the film. It was not released when it was first filmed, because director Sydney Pollack didn't use a clapperboard or any other sound marker to help sync the sound, so the editors were unable to match the audio to the video. They even hired professional lip readers before giving up. Producer Alan Elliott acquired the footage in 2008 and updated technology made it easier to sync the sound.
The concert was filmed over the course of two nights — not the same concert twice, just one half followed by the other half the next day. It makes sense, because each song seems to take everything out of Franklin. The program begins with gospel singer Rev. James Cleveland as he first introduces the Southern California Community Choir, adorned in shimmering silver vests, and then Franklin in a glittering mint sheath dress. In his introduction, Cleveland says, "This is a church and we're here for a religious service."
Franklin opens with a rendition of Marvin Gaye's "Wholy Holy." As a viewer, you think, for the first few songs, "This sounds incredible and I can't imagine it getting better," but the choir and the audience are still seated, so you know it will. She performs a total of seven songs that night, including a medley of "Precious Lord Take My Hand" and Carole King's "You've Got a Friend."
From the first song, some combination of sweat and tears are rolling down Franklin's face, but sometimes they look like glitter. It's when she comes to her nearly 11-minute rendition of "Amazing Grace" that the night reaches a fever pitch; the choir jumps to their feet, raising their hands in the air. Cleveland is so overcome he leaves his post at the piano to sob into his handkerchief. Everyone in the room is rapturous in their belief in God, or in Franklin, or both.
It's clear that not everyone originally understood how big of a deal this recording would become, because by the second night, the crowd had grown to include more familiar faces, including Aretha's father, Rev. C.L. Franklin, and gospel singer Clara Ward. A young Mick Jagger can be seen sitting in the back, though he inches his way to the front by the end. During "Never Grow Old," the final song of the recording, C.L. Franklin periodically yelps and claps his hands together. Ward jumps out of her seat and lifts her hands to the sky. Audience members dance in the aisles and one woman has to be restrained because her exuberance is too strong.
In his introduction at the beginning of the recording, Cleveland says, "If I seem a little misty, it's just because I'm happy. I'm happy for the Southern California Choir. For us, this is a dream come true." It was a big deal for them to back someone so legendary that, although only 29 years old at the time of the recording, she was labeled "the first lady of music." The album is still Franklin's best-selling record of all time. She didn't like the film and didn't want it released, but we should be grateful that it was anyway. Watching Amazing Grace, it's clear how that moment was so much bigger than just her.