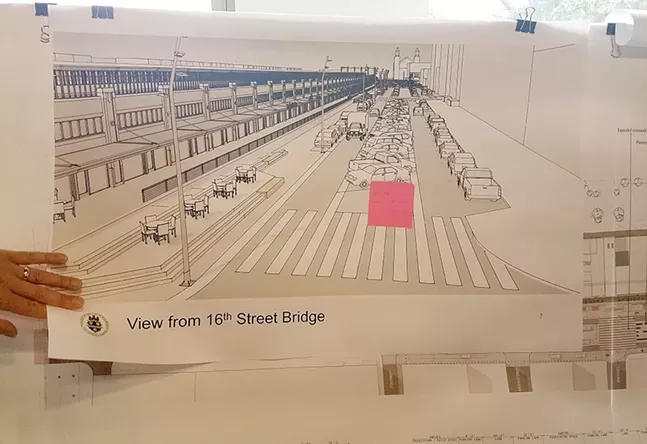 Many visitors pack the sidewalks of Penn Avenue every weekend in the Strip District, and most people assume they arrive there by car. Pittsburgh city planners are proposing a plan to redesign Smallman Street to accommodate that alleged demand. But some Pittsburghers are wondering whether a redesign of that magnitude should be crafted with only two days of the week in mind.
The plan was first proposed on July 31. With the Produce Terminal on Smallman being redeveloped, an opportunity arose to modify a thoroughfare that's essentially just a parking lot with a wide two-way road running through it.
The plan proposed a median in the center of Smallman Street as a way to slow vehicular traffic and provide pedestrians a gathering place. This means less parking than before, and merchants of the Penn Avenue business district were not pleased.
"Eighty percent of the people here, that is our main concern," Yinzers clothing owner Jim Coen told WESA. "We feel like we're going to lose our businesses."
As
WESA noted
, the plan also received criticism from bike and pedestrian advocates. They said the plan didn't address the needs of cyclists and made short shrift of pedestrians. And while both parking boosters and alternative-transit advocates were critical of the proposal, those most negatively affected are people who want to visit the Strip without a car.
The plan lacked any bike infrastructure at a time when bike-advocates were hopeful to use Smallman Street as a connection to the protected bike lane on Penn Avenue, which abruptly ends at 16th Street. The pedestrian median will at times be occupied by cars for extra parking.
Eric Boerer of Bike Pittsburgh said the city is squandering an opportunity to
transform the area
into a "Complete Street," one that weighs the needs of pedestrians, cyclists, and drivers equally.
"This is a place from all over the world that are visiting," said Boerer of the Strip District. "And they are going to turn it into a parking lot. Why are we not treating it as the asset it is?"
Keyva Clark, spokesperson for Pittsburgh Mayor Bill Peduto, said the plan isn't finalized and the City Planning department is in the "beginning of the planning and survey portion" of the proposal.
"The goal is to not only look at Smallman Street, but the district as a whole," said Clark.
Overestimating how many people drive to busy urban business districts is common. According to a November 2017 paper from the
National Association of City Transportation Officials
, merchants on Cesar Chavez Street in Los Angeles estimated 36 percent of arriving patrons used cars and none arrived by transit. In fact, only 7 percent drove and 46 percent arrived by transit.
Despite rhetoric from a
San Francisco
merchant coalition saying parking was vital, a 2013 study from SF Municipal Transportation Agency showed 85 percent of people arrived to the Polk Street business district without a car.
And while
public-transit use
and walking rates in San Francisco are higher than Pittsburgh, Los Angeles lags behind the Steel City. About 17 percent of people commute via public transit in Pittsburgh compared to 10 percent in Los Angeles.
Compared with Angelenos, a much higher percentage of Pittsburghers walk and about twice as many bike.
On first glance, the Strip appears to have few public transit options. But there are actually five bus routes that ride through the Strip. They serve the North Side, Downtown, Lawrenceville, East End, Oakland, and South Side.
According to the Port Authority of Allegheny County, 1100 people get on and off bus stops within the Strip's main business district (16th to 25th street) every weekday.
Parking is typically full during much of the day in this same area, but there are
only 236 metered parking spots, not including Smallman Street, according to the Pittsburgh Parking Authority. Assuming most people drive alone, each spot would have to turn over more than 4.5 times a day to equal the amount of people that pass through the Strip using public transit.
And this doesn't take into account how many people arrive to the Strip by
bike
.
"I think it is on the high end in the city," said Boerer of bike traffic in the Strip District. "Lawrenceville has some of the highest rates in the city for bike-commuter rates."
Boerer added that for the past four years on the annual Bike to Work Day, cyclists have comprised 25 percent of all morning rush-hour traffic on Penn Avenue at 10th Street Downtown. Boerer said vast majority of this traffic had to ride through the Strip.
Data from
Healthy Ride
, Pittsburgh's bike share, shows the Strip is one of the more popular destinations to drop off and pick up bikes. From July-September 2017, the Strip averaged 23 drop-offs and 21 pick-ups a day.
Additionally, several new developers are building parking garages and lots as part of their nearby developments. Those should include hundreds of parking spaces.
Boerer said the city didn't do its due diligence before proposing the Smallman Street plan. He noted Pittsburgh City Council recently OK'd acquiring a $100,000 traffic study of Smallman Street and suggested that it be completed before finishing the redesign.
"The real problem is that we don't have great data for any of this," said Boerer. The city hasn't really looked into it. They proposed a plan for a sea of parking before they know what the parking needs were there."