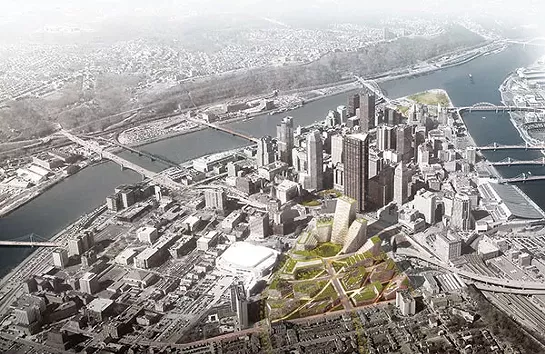 My grandparents were long-time residents of I.M. Pei's Washington Plaza apartments, overlooking the Lower Hill. One day 40 or so years ago, pointing toward the west side of the building, my grandfather said to me, "That's where the next building is going to go." Of course, a second mute slab to match Pei's first one never came. "Every story should have a beginning, middle, and an end," declared filmmaker Jean-Luc Godard, "just not in that order." Sometimes the story ends in the middle.
In fact, I suspect that Kai-Uwe Bergman and the staff of BIG Architects and their collaborators in Atelier 10 and West 8 are more adept than they let on in rearranging the commonly understood phases of storytelling. The team just unveiled its plan for 1,200 units of housing and one million square feet of commercial space, overlaid on the 28-acre former Civic Arena site, designed for developers McCormack Baron Salazar. It's a beautifully contemporary plan, reminiscent of some of their Danish work, not unrelated to their new building in New York. And they presented very adeptly the calculus-like multi-variability with which they blended issues such as sunlight, zoning, drainage, slope, and access to produce their signature designs.
But like bad lovers, they finished while we were still in the middle. After a few weeks of community meetings in the fall, they brought in models and renderings of designs that I strongly suspect they had completed before the input was really done. That's OK — it's still beautiful work. But I fear the same principle applies to construction. Bulldozers are already grading for streets and other infrastructure, but that doesn't guarantee that completion of buildings of this kind will be part of the story.
More renderings than necessary accompany these plans, and these include structures shown with fancier materials, more complex rooflines and more elaborate custom windows than what the Pittsburgh construction market is really going to allow, based on what is being built elsewhere now. This doesn't look like a project to build; it looks like a project that is going to have a prominent placement in Bjarke Ingels Group's next published folio on master-planning.
For all the legacy of unrealized projects for the Lower Hill, McCormack Baron Salazar actually has a track record of construction of housing in the Middle Hill. Its website says that it has constructed 681 units in various projects, the most prominent of which is Crawford Square, built in three phases between 1993 and 2000 (and actually finished!) to designs by UDA Architects, authors of the Lower Hill's most recently abandoned master plan.
Crawford Square, judging by published sources, tidily blends people of different incomes and races. But it is eerily suburban in its single-use nature, and it is utterly dead in terms of precisely the urban activity that the new work promises to deliver. We are not trying to begin the process of new housing in the hill; we are in the middle of it. Yet nothing about BIG's design or process acknowledges successes or failures in immediately adjacent work by the same developers.
One good outcome of this design release is that BIG inundated the webosphere with articles and images of this project. Like the Hanukah song that parodies Jewish last names by singing, "Leaven, LeVinn, Leveen, LeVyne," BIG seems to have hit every popular website that might be a variation on Design or Dezeen. BIG might be a bad lover, but it's an awesome prom date. We really had no idea what cool was until BIG took charge of design and PR. We are so popular now.
Of course none of these, nor any local media outlets, has addressed the published designs with a shred of criticality. Notwithstanding a mention or two of the Civic Arena or the lost communities of the Lower Hill, you would think this was all starting for the first time.
But we are really just in the middle of a story that has happened over and over. And much as I hope something like BIG's exciting renderings will get built and fulfill these promises, we know quite clearly, based on decades of experience, that this version of this project will stop, at best, somewhere in the middle, like Washington Plaza.
Have any of these people ever heard of phased development? Actually, that's how these developers did Crawford Square — a portion at a time, because you might not finish the whole thing. Why not acknowledge that as a reasonable approach here? That would be a good start.