When Stephanie Tirdel retired from dance in 2009, it wasn't because she'd lost her passion for the art.
"I stopped dancing because I couldn't take the pain anymore," Tirdel says. "It wasn't fun."
The long-time dancer and fitness enthusiast suffers from herniated discs and at one point she was weighing spinal surgery.
"The doctor wanted to do spine surgery, but I didn't want to have it done," says Tirdel. "I was scared."
But then Tirdel found AntiGravity, a form of fitness that focuses on strength, flexibility and agility using the AntiGravity Harrison Hammock, developed by Christopher Harrison, of AntiGravityLab.com, based in New York City.
"Just on a whim, my husband and I went, and after the class I realized I had no pain," Tirdel says of her introduction to AntiGravity during a visit to New York City. "The next month I was there getting certified." Her studio in East Liberty is the only licensed AntiGravity studio between Philadelphia and Columbus.
Harrison developed the practice after he too was injured. The gymnast, who served as Kevin Bacon's dance/stunt double in Footloose, initially created the AntiGravity hammock for aerial acts in the performance world, but soon recognized his invention's health benefits.
"He realized this is different because you're supported," Tirdel says. "He said [it helps] because of the decompression and the inversion of the spine."
The practice at Tirdel's studio, Stheil Pilates and Movement Center, involves zero-compression exercises that mirror moves from Pilates, yoga, ballet and strength training along with zero-compression inversions. The moves lengthen ligaments and relax muscles.
For those nervous about the prospect of hanging upside-down from a piece of fabric, Tirdel emphasized that the hammocks are weight-tested to hold 1,000 pounds.
"Having to support myself, but also being supported, is huge," Tirdel says. "The tingling and numbness I used to feel — gone."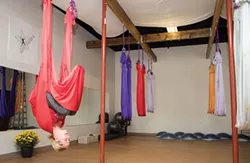 According to the World Health Organization, falling is the second leading cause of accidental death. It's also a major source of personal injury for the elderly that Tirdel says can lead to head injuries, or infections due to associated surgery. Tirdel claims that AntiGravity can sharpen a person's ability to react quickly to environmental changes — skills she says reduce the risk of injury from sports, exercise and simple daily activities.
"As we age, our perception of space in time gets dulled," says Tirdel. "AntiGravity can sharpen it."
And beyond her personal experience, Tirdel has seen the benefits AntiGravity has on sports injuries firsthand.
One of her clients has struggled with injuries from weightlifting. He was ready to get both shoulders replaced before he found AntiGravity.
"I know that it works," says Tirdel.