At a glance, the similarities between Zap Mama and Antibalas are few: African-inspired polyrhythms are just about it. Otherwise, the two ensembles are pretty disparate. Zap Mama, founded in the late '80s, is the mostly-vocal project of Belgian artist Marie Daulne, who mixes polyphonics and the sounds of her native Democratic Republic of Congo. Antibalas, which got together in 1998, is a big group full of different instruments, as well known for serving as the band in Fela!, the Broadway musical, as for its own Afrobeat-inspired tunes.
But when a representative of concert-booker Columbia Artist Management Inc. came to Zap Mama's Daulne with the idea of putting the two together on tour, it made sense to her.
"I asked him how come he thought that would sound good together," she recalls. "But I liked the idea — especially because I saw Fela! on Broadway, and I was enjoying it so much, and it was Antibalas playing!
"For me, to have Antibalas, with the horns section, drums, bass, a whole Afrobeat band, it's fantastic! It's a plus."
Both groups are no stranger to collaborating with others — to an extent, in fact, both have made it a big part of their missions.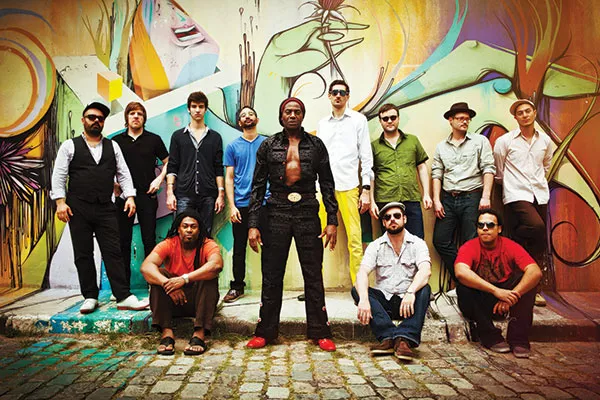 "Collaborating with other artists is rewarding musically, first and foremost, which is why we do it," explains Martin Perna, Antibalas' musical director, via email. "It's a welcome challenge to work with other artists and figure out what our common musical ground is and to build relationships with them and help them present their work with a particular sound that they probably couldn't get on their own."
Antibalas notably backed up David Byrne and St. Vincent on a track from their 2012 album Love This Giant, and appeared on TV on the Radio's Dear Science in 2008. Guest spots like that, in addition to the Fela! gig, have made the ensemble more of a household name — though Perna is quick to note that fans of those parts of the band's work don't necessarily become die-hard Antibalas fans.
"When we went on tour with our last full-length album in 2012, we didn't see much crossover from the Fela! musical audience, because the audience that goes to see an 8 p.m. show on Broadway is not the same audience that would go see us at a nightclub at 11 p.m. on a Tuesday," Perna notes.
"More importantly, though, what we do in its most undiluted form goes over most people's heads. We don't follow pop-music song structure, and [our tracks] tend to be two to four times longer than any song you hear on the radio. The styles of music that inform what we do, unlike soul, funk, R&B, rock or be-bop, [aren't] in the cultural DNA of mainstream America, so it's still very foreign, exotic and weird to most people."
With Zap Mama, Daulne has at times written and performed with instrumentalists, and at other times kept her arrangements purely vocal. (She's also had everything from five voices in the group to just one.) Her ReCreation album, in 2009, was its own study in working together: It had featured guest spots from G. Love, Meshell Ndegeocello and Fela Kuti drummer Tony Allen, among others. In the past, she's done tracks with The Roots, Common and Michael Franti.