It's been nearly two decades since local-gone-international political-punk band Anti-Flag began in earnest, and the band is now on its 10th full-length (not counting splits and limited-run releases). One might wonder if there have been moments when it seemed fruitless, and the weight of everything that's bad in politics and the music industry felt like too much. To hear frontman Justin Sane tell it, the answer is yes. And it took a couple of years of dialing back — and the emergence of the Occupy movement — to really break out of that despair.
"I had really gotten to a point after the economic ripoff, after the Gulf oil spill, where I thought, 'Wow, are we just doomed?'" Sane recalls. "'Is there no hope; has everyone given up?' And all of a sudden [in Occupy Wall Street], I find there is hope. Everyone has not rolled over and died."
In a strange way, it was perhaps fortuitous that just as Anti-Flag, which emerged from Pittsburgh basements and found its focus decrying global capitalism and war, was hitting its stride, George W. Bush was elected to office. While the band's members clearly would have preferred it if he'd never taken power, it did give the left an enemy to organize against, and therefore gave the band plenty of material. When Barack Obama was elected in 2008, it had an effect on the activist left, and it took a while to wear off.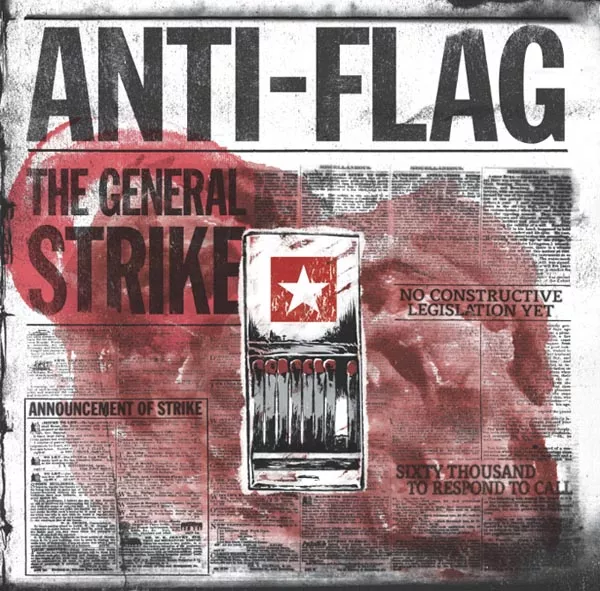 "There was a fervor in the 'left' that surrounded Barack Obama," says bassist Chris #2. "And I think the excitement of his victory, the hangover of apathy that happened after we all kind of went, 'We won!' — wore off and people were like, 'Wait! Nothing happened!'"
As the Occupy movement cropped up, Anti-Flag was at work on The General Strike, the band's latest, released by the Los Angeles-based SideOneDummy label. Taking two years after its previous release (The People or the Gun) gave the band time to focus on the craft of making an album.
Anti-Flag's last three records had been made in short order, and perhaps even hastily. For Blood and Empire, in 2006, was the band's major-label debut, on RCA; it found them honing their focus. (The songs had straightforward titles like "The W.T.O. Kills Farmers" and "Depleted Uranium Is a War Crime.") The follow-up album, The Bright Lights of America, was released at a point when the band had few friends left at the label — which, like many majors in the middle of the last decade, was struggling.
"We knew that everyone [at the label] was fired and it was our last record with them: That cycle had been filled," explains Chris #2. "And we finished it, but there were problems — the new people weren't invested, they knew we were leaving. So we called our friends at SideOne and said, 'We're gonna write a new album and record it right away.' Those two cycles went right together."
The next step was to relax the pace.
"We put the brakes on and decided not to release another record until we were done with it," says Sane. "We put out three records in four years — we were just a machine, always on the road or in the studio, and that was it. And there came a point where we needed a break."
The slow-down allowed the members to get their bearings and take a closer look at the current events they were constantly reacting to musically.
"By the time Occupy Wall Street was really moving in full force, we could look at the aspects of that that were really inspiring to us, then include those aspects on the record," explains Sane. "Whether it be the [consensus-based decision-making], or the way certain activists were able to organize around Occupy and the impact it was starting to have on the political dialogue in the country."
Part of that impact, he adds, involves keeping Democrats honest. "Even if you're a progressive politician — and I wouldn't call Barack Obama a progressive politician by any means — if you don't look outside the White House window and see people calling for this progressive step you want to take, it's going to be really difficult for you to do."
Despite the mixed feelings on Obama, Sane says he'll likely vote for the president this year. 
"I wasn't even gonna vote for Barack Obama in this election. Then I hear the Republicans talking, and I think, 'Oh, man, I don't want a guy in the White House who says he doesn't care about the poor, I don't want someone in the White House like Rick Santorum, who tells rape victims to 'make the best of a bad situation,' and doesn't believe in the separation of church and state.
"I voted for Ralph Nader instead of Al Gore and we got the Iraq war. I think Nader was the best candidate, and today I talk to a lot of my radical friends who say, 'No way, I will not vote for Obama.' I don't disagree with them, but I know that the chances of us going to war with Iran when Obama's president as opposed to Rick Santorum or Mitt Romney — it's a much different percentage. And I've seen the results of what happens when these crazy and, I think, dangerous people get into power. I think it's just life experience, to be honest."