The Pittsburgh Japanese Film Festival, now in its fourth year, showcases the country's diversity in filmmaking, from animation to cult horror to quiet dramas. This year, the festival showcases three anime films that never got a wide release in Pittsburgh and showcase the complexity and flexibility of the animation, which, depending on who you ask, is either a genre or a medium (or both). For complete film lineup and showtimes, visit jffpgh.org
The Night is Short, Walk on Girl

One wild night out can feel like an eternity. Contrary to its title, Japanese anime film The Night is Short, Walk on Girl follows an unnamed protagonist on an endless night as she wanders through the city, drinking with philosophers, punching perverts, and starring in guerrilla theater.
The night begins for The Girl with Black Hair (Kana Hanazawa) at a school party where a boy, Senior (Hoshino Gen), pines for her. As The Girl sets out on her journey, Senior sets out on his own to confess his love, only to be thwarted at every turn by circumstance. The Girl begins at a bar where she socks a man who grabs her boob, impressing two other patrons. Together, they crash parties and enter a drinking contest with a mythical being who rides around in a three-story train and steals men's underwear (as one does). All the while, Senior is fruitlessly pursuing her through the night, trying to acquire her favorite children's book to give as a gift.
The Night is Short, directed by Masaaki Yuasa, is technically a romantic comedy. It begins and ends in typical form for that genre, with guy pining over girl, and eventually winning girl over. But the middle is like a lucid dream, full of scenes and people from a warped reality. The animation is bright and colorful, full of flowers, fire, and a wind that knocks everything sideways. The movie has no interest in maintaining a cohesive reality or structure, and by the end some of the novelty has worn off. It might've sufficed as a short film, but then we wouldn't see The Girl walk on and on and on. Thu., April 11. Multiple screenings.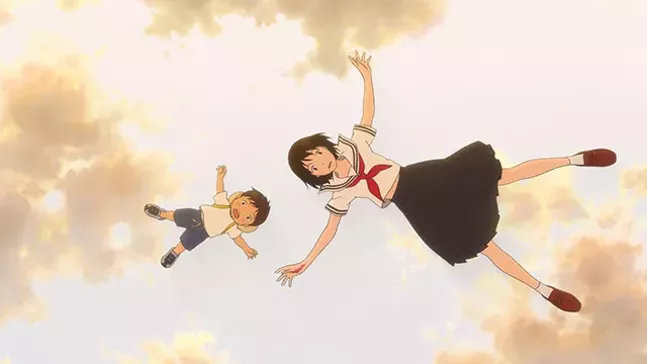 Mirai

Rarely are movies so equally targeted to both parents and kids as in Mamoru Hosoda's Mirai. The film follows the growing pains of four-year-old Kun and his parents as they welcome a new baby, Mirai, to the family. When Kun gets jealous of the new baby, he finds solace in a fantasy world.

While initially mesmerized by his baby sister, Kun (Jaden Waldman in the English dub) begins to resent all the attention she gets. He throws tantrums, throws his toys, and goes as far as hitting his sister. Slowly, he begins to understand the importance of siblinghood when he goes on a series of adventures with teenage Mirai from the future (Victoria Grace). He travels between the future and present, eventually visiting the past to see his mother's childhood and his great-grandfather's farm.
The parents, meanwhile, are visibly exhausted and overwhelmed. Mirai doesn't hold back in showing the chaos of parenthood. The mom (Rebecca Hall) goes back to work while the dad (John Cho) stays at home, frantically trying to understand how his wife raised the first kid. There are diapers and sleep-deprivation and shouting matches. It is also one of the only family movies ever to show casual breastfeeding.
The animation is beautiful — delicate and enchanting — but as the film goes on, it starts to get darker and more sinister. Instead of running through a tropical forest, Kun is sucked onto a train that looks like a river monster. It's just spooky enough to cut through the more saccharine life lessons.
Mirai was nominated for Best Animated Feature at the 2019 Oscars, and while it had no shot (anime hasn't won the category since 2002), the film was just as worthy as any other. Mon., April 1, Sat., April 6, and Sun., April 7.
Okko's Inn

When a child loses both their parents, who's left to help them overcome the grief and keep going? In the case of Okko's Inn, it's a band of friendly kid-ghosts, a glamorous fortune teller, and a baby demon.
After Okko survives a car crash that kills both her parents, she goes to live and work with her grandma who runs a small inn and spa among natural springs in the Japanese countryside. At first apprehensive about her new environment, Okko receives encouragement from Uribo, the ghost of a little boy. Since her grandma is getting older, Okko volunteers to work as a junior innkeeper and quickly makes a name for herself among patrons, especially a fortune teller who drinks champagne and drives a Porsche.
Okko's newfound confidence as a helpful and caring innkeeper is only undermined by Matsuki, a classmate who wears extravagant pink clothing, quotes Steve Jobs, and works for her family's luxury inn. Her older sister, a ghost, also hangs around Okko, as does a baby demon released from an amulet. Eventually, they all come together to help Okko and the inn.
The ghosts can get annoying, like unwanted bugs flying around, but they help Okko come to terms with her grief and PTSD. Even with all the fantastical elements, Okko's Inn, directed by Kitarō Kōsaka, is a predictable movie, but still manages to impart heartfelt lessons on family, acceptance, and other nice topics. Sat., March 30 and Sun., March 31.