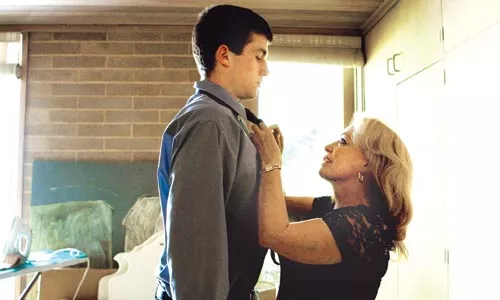 We know from the moment we meet Josh that 18 won't be a very good year for the lad, and that the 17 years before that probably weren't so good either.
He's sitting on a couch, in a dusky room, watching an unusually stupid TV game show. The contestants shriek and laugh, but Josh is stoic, frozen. Then, the medics arrive, and he mumbles why he called for help: It's his mother, there on the floor at his feet, a heroin overdose or something. As they work on her, he stands off to the side, watching them and the TV show. A moment later he's on the phone, telling his grandmother that her daughter is dead.
At this point, David Michôd's Animal Kingdom could go one of two ways: Either we watch Josh struggle to stay out of trouble after his unspeakable ordeal, or we see how he got there in the first place. Michôd goes the second way to create a sort of gritty Australian small-time Godfather or GoodFellas, the story of a crime family and the syndicate of rival criminals who surround it.
It's smartly done and very lugubrious, with riveting moments of intimate-cum-explosive drama that keep us guessing about what will happen to Josh (James Frecheville) in his bleak circumstances.
The matriarch of this dystopic nuclear family (Jacki Weaver) is part Ma Barker and part Mama Macbeth, a self-centered amoral slacker who counts on her three sons' criminal enterprises to support her. She's proud of her boys for being good at what they do, and she always tries to have a positive outlook on things.
It's not a defense mechanism: She's a sociopath, and when Josh comes to live with them, she's all big hugs and creepily tender kisses, especially for her strapping tattooed shirtless son Craig, whose death sets off a chain of events that threatens to end the family's reign of (just a notch above petty) crime.
For Josh, life with his family is simply the natural order of the world he inhabits. "Kids just are wherever they are," he says in narration. "They do whatever they're doing." The first time Josh's uncle lets him hold a gun -- to teach some punks a lesson on who's powerful and who's not -- he asks the kid, "Got a little stiffie?" Well, of course he does. Who wouldn't? That's how the fittest survive.
The film's title suggests themes of instinct, natural selection and genetic predisposition as these concepts apply to the human animal. But in the third act, when Josh finds himself torn between turning state's witness or staying in the fold, the cop (a mustachioed Guy Pearce) leading the investigation explains the order of things to him. "Do you know what the bush is about?" he says. "It's about massive trees that have been standing there for thousands of years and bugs that'll be dead before the minute's out. And everyone knows its place in the scheme of things."
Michôd's film is as much a morality play as a drama, and it could just as easily have been a mini-series or even an HBO series. He keeps it all from becoming merely a sociological tract by focusing on the taut emotions of Josh and the malcontents around him. His grandmother is the bad seed that spawned these weeds, and as always in a garden with unwanted growths, good things get overtaken by the invading species.
So what will become of Josh? Michôd's solution is as emotionally disturbing as it is dramatically satisfying, an appropriately low-keyed moment that's also, you could say, gangster grand guignol -- at once familiar and startling, and probably, in the natural order of things, inevitable.
Starts Fri., Oct. 1. Regent Square Theater