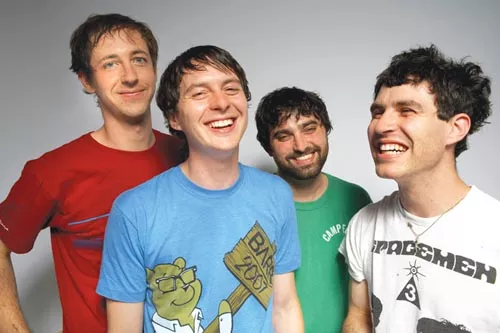 In 2009, Animal Collective shot from weirdos' favorite rock band to rock bros' favorite weirdos.
Its album Merriweather Post Pavilion, which held a massive blogosphere hit in the neon-quivering "My Girls," was the most critically drooled-upon album of that year. The album pushed Animal Collective (David "Avey Tare" Portner, Noah "Panda Bear" Lennox, Brian "Geologist" Weitz and Josh "Deakin" Dibb) to the forefront of online music obsession. So even while "My Girls" put Animal Collective on the radar of many a radio-rock dude, bloggers and their mustachioed kin remain fiercely possessive.
But where does that leave the band's members? Trying their best to ignore the hype. As Animal Collective heads out on tour, the group will play new music and experiment with tweaky, psychedelic sounds, like always, amidst the most deafening buzz in indie rock. We checked in with Dibb to talk shows, new jams and hailing the rock 'n' roll greats.
That relaxed attitude the four of you maintain toward the group is in sharp contrast to the fanaticism that the press and your fans have toward you. Do fans take the band more seriously than you do?
There are two sides to that. The casualness doesn't take away from the importance of Animal Collective to us. We're pretty fanatical about ourselves; it's super fun for us and we feel blessed. And it's awesome to play shows and see people getting really psyched about what we're doing. But there are levels of it that we've had to turn away from a little bit. To me it's the Internet age -- the rate at which people expect things, the degree to which they expect knowledge. How "in" they expect to be. There was a moment when it just started to feel too intense and invasive. So we've decided to be a little less engaged on our side.
Tell me about the band's habit of playing mostly new material live.
It's a weird dynamic. We're playing pretty big shows, and we're playing almost completely new stuff. On the one hand, our reputation has been built on that, and some fans are excited to hear it, but on the other hand, some people ask, "What the hell? Why didn't they play 'My Girls'?"
It's not a blatant "fuck you" to anyone -- we're taking personal journeys in music, and sharing them with people. If we were going into this next era thinking how well Merriweather did, that would be death. The only sane way to approach it is to play what's true to us right now. And if it appeals to people, that's great. If not, we'll deal with the consequences.
That's different than most indie-rock bands, wherein you'll hear the blog hit as the encore. Do you resist that pressure?
Yeah, definitely. Every song we've made I truly do love, and the perennial favorites are awesome songs, but if we play them night after night after night, I'm not getting chills anymore. If the show isn't exciting to us, we need to do it differently, and we need to have faith that the people who are on this journey with us will stick around. We've been dancing in this realm of being a big indie-rock band. That's awesome, but it's more of an opportunity to do what we do and hope some percentage of the audience who liked "My Girls" will hear something weirder and feel differently about music.
Animal Collective has always been a very independent act in terms of trends -- if anything, you're starting them rather than following them. Do you ever hear new music, and get the feeling that band is a fan of yours?
I don't want to get into a name thing, but we've heard bands that sound really familiar. To us, that's always been a flattering thing. I remember years ago, we played a show and some kids came up to us afterwards and said, "We're doing this stuff, we want to give you our CD. It sounds a lot like you guys." Dave gave a great answer. He said, "When we started off, we sounded like Pavement."
When you're young, it makes sense that you hear these songs you love and want to mimic them, then turn them into your own thing. But I do feel I hear people full-on aping things nowadays -- and I wonder if it's really good for them. Sometimes, it's cringe-worthy, and I hope we're not responsible for that.
Have you felt heat from fans and critics waiting to hear new recorded material?
It's crazy. We get feedback from fans like, "What the fuck, why haven't you put out a record yet?" It's been two years; relax. But there are bands that feed into that -- it's almost impressive to me to put something out every six months. But the fact that it's almost expected now is bizarre to me.
What do you make of the material that Animal Collective have been working on recently?
I'm excited. It's really … well, this is my least favorite question at family gatherings: "What type of music do you play?" "I really don't know." Merriweather was very sample-based, a lot more canned. We now want to explore our musicianship again -- we're playing guitars. Noah's playing a full drum kit. It's rawer, denser, a little darker overall. It feels heavier. We wanted to create the feeling of the four of us in a room: Here we are, let's play.
ANIMAL COLLECTIVE 8 p.m. Wed., July 13. Mr. Small's Theater, 400 Lincoln Ave., Millvale. Sold out. 412-821-4447 or www.mrsmalls.com