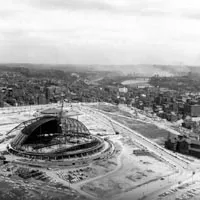 I can remember vividly seeing the Rolling Stones at their first arena show [Nov. 24, 1965]. I was young -- my mother and father drove me down from Irwin, and to me, riding to Pittsburgh was like going to New York City. They left my brother with me, who was five years younger, and the last thing they said to me was, "Don't lose your brother!" But when the Stones came on, I rushed the stage in a stage of euphoria. Fortunately, my brother was still in his seat when I got back.
But back in the late 1960s and 1970s -- before The Who tragedy [when a stampede crushed 11 fans in a 1979 Cincinnati show] -- it was festival seating. Every man for himself. People would be sitting on the floor, smoking pot. It was a different time.
-- Veteran local musician Joe Grushecky
I've had Penguins season tickets -- through my father, or myself or my buddies -- since the 1970s. I went to a ton of games with my father: For his 66th birthday, we got to see Mario Lemieux, 66. It was a real bonding thing for us. But the game I'll always remember was the first game of the Stanley Cup series with the Chicago Blackhawks [May 26, 1992]. Chicago had an early 3-0 lead, and in the third period, the Pens were still down a goal with less than five minutes left. Jaromir Jagr ties it with a goal, then Chicago gets called for a penalty with just 22 seconds left in the game. Then Mario Lemieux scores -- it was right in front of me. The roof wasn't open, but the crowd was so excited that it was shaking. Best hockey game in the Igloo -- and then the Penguins won the next three games to sweep the series.
-- Pittsburgh city councilor, and amateur hockey player, Bill Peduto
My mom was always taking us to the Civic Light Opera, so we actually went down when it was brand new. I can still remember seeing it open as a little kid for the first time. I was like, "What is that?" because it was like this line of light that appeared to split the roof -- it was still light outside when they began to open it. We'd always get really cheap seats up at the top, and then after first intermission we'd move down to the floor and nice seats. I also remember being dressed as Fred Flintstone for a Cub Scout thing, and being on the floor of the Civic Arena when I was in grade school -- it was tremendous.
I took my first date there, to see the Mamas and the Papas. It was the first time I'd ever asked a girl out, and I didn't think far enough ahead. I didn't know I had to buy tickets in advance until we got there, and then it was sold out. So I didn't get to see them.
I would like to see the arena preserved. I think it's ridiculous to get rid of that building.
-- Rick Sebak, documentary filmmaker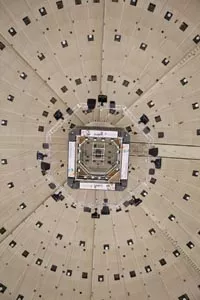 "With the dedication of its Public Auditorium this month, Pittsburgh underscores an urban redevelopment program that has already captured the imagination of visitors and city planners throughout the nation and world. This city has come a long way since the smoky, sooty times of the mid-1940s. ...
To make way for the unique structure, Pittsburgh had to purchase and develop 1,000 separate parcels of property and relocated 1,600 families ... to other parts of the city. In the not-too-distant future, a colony of cultural halls, middle-income apartment dwellings, superhighways, commercial establishments, another hotel and a mall of shady gardens will grow around the Auditorium. ...
The completion of the Auditorium gives time to pause ... to appreciate what can be accomplished when human energy burns for the sake of progress."
-- Excerpts from a Sept.17, 1961 Chamber of Commerce press release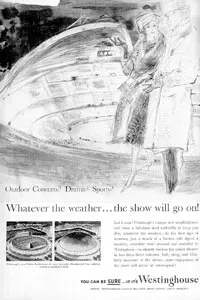 "We had a TERRIBLE TIME
Finding a name for you.
What auditorium ever combined
All the things you do? ...
The Home Show
The Dog Show,
The Ice Skating sprite.
The Scout Jamboree,
The Basketball heights,
The opening dome
And its breath-taking sights ...
Who can believe, who can conceive
All the excitement you hold up your sleeve. ...
You're almost too good to be true."
Excerpt from "The Big Igloo," a poem written for the 1963 book This Is Pittsburgh: We live here ... we like it!