Andrew Conte's new book, The Color of Sundays (Blue River Press), chronicles the impact of scout Bill Nunn Jr. on the rise of Steelers in the 1970s. But the book concerns much more than football — it had to, in order for Nunn to work with Conte.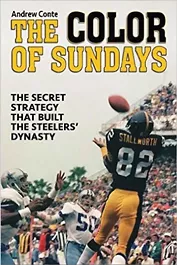 "I felt emboldened to tell this story … because I worried that all these stories would be lost," says Conte, an award-winning investigative reporter with Trib Total Media. So Conte convinced Nunn to at least consider the project. Still, Nunn insisted that Conte do his research on the history of African Americans in sports. It was a game of cat and mouse: They would meet; Nunn would test Conte; Conte would do more research. Then they would meet again and Nunn would test him again. Finally, Conte passed the test and started the work of telling all of the stories involved.
Pure football fans will learn how Nunn found key pieces of those dynastic Steelers teams. Nunn grew up in the offices of the Pittsburgh Courier, one of America's pre-eminent black newspapers. After college, he worked for the paper as a sportswriter. His duties included compiling the Black All-American Football Team, which meant that Nunn traveled all over the South, watching games between Southern black universities — games which went virtually uncovered by the national (white) media and largely unnoticed by NFL scouts.
As a Steelers scout, Nunn's depth of knowledge was invaluable, and he recommended players who proved essential to the club's success: L.C. Greenwood (Arkansas AM&N), Mel Blount (Southern), Dwight White (East Texas State), Joe Gilliam (Tennessee State), Ernie Holmes (Texas Southern), John Stallworth (Alabama A&M) and Donnie Shell (South Carolina State), to name a few.
But the book is also about race in America and race in sports. It's about the Pittsburgh Courier. And it is about the segregated era of the NFL (1934 to 1946), an era that many fans are unaware of and that the NFL is happy to keep swept under the carpet.
"People who are coming to it as strictly Steelers fans might be frustrated by some of that history," acknowledges Conte.