Anders Rhedin is what you might call a true cosmopolitan. Until about a year ago, the Danish musician, who performs under the name Dinner, split his time between Los Angeles, Berlin and Copenhagen. Now he spends most of his time, a little improbably, in L.A.
"It's really weird," he says, his voice deep and accent glossy. "I shouldn't feel at home there at all. I don't fit in, in any way. But you know, Werner Herzog lives there, Adorno lived there, so I'm thinking, I'm not the only Euro guy that for some reason really likes L.A."
This week, Dinner performs as part of the #NOWSEETHIS party at the Carnegie Museum of Art. Co-presented by VIA and the museum, the event celebrates CMOA's Hillman Photography Initiative, a program which aims to foster innovation and to change the way we look at and think about photographic images. Dinner — who just finished up a tour with Mac DeMarco — is taking the place of the band Lower Dens, who amicably dropped off to take a slot touring with Belle and Sebastian. But even as a late arrival, it's a natural fit on a bill that includes experimental electro/R&B artist Kelela and DJ/producer and noted trans activist Juliana Huxtable, plus live and interactive visual art by a variety of artists.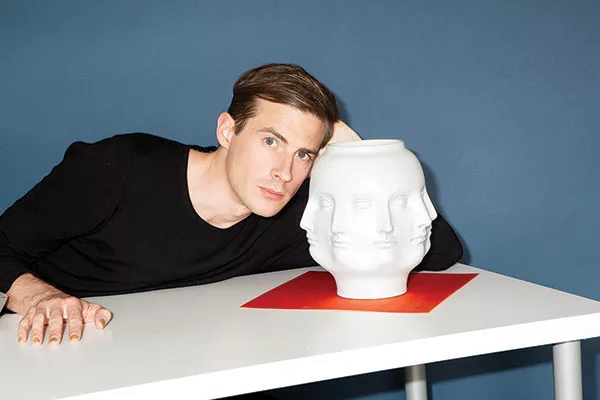 "Contemporary ways we archive our lives (like Instagram) are very much in the Now and a way to build, explore and craft personal identity," VIA organizer Quinn Leonowicz says via email, explaining the thought process behind curating #NOWSEETHIS. "Taking the importance of identity into mind, words that came to mind when it came to booking talent were: fresh, exciting, timely, self-aware, unique, chill, multi-faceted, evolving, now, inspiring, future. Kelela, Julianna, and Dinner possess these in spades."
Fittingly, the art world has played a significant role in Rhedin's developing identity. "My ex, whom I was with for 13 years, was a visual artist," he explains. "My whole coming of age, artistically speaking ... when that happened for me, I was surrounded by great artists." Dinner is synth-driven and a little cold, but also full of humanity and emotion, as if Stephen Merritt were singing for the Psychedelic Furs. Rhedin's humor and pop sensibility add to the complexity of his work. Songs like "Going Out" and "3rd Presence" have a vivid, buzzy, electric quality. It's not a stretch when he cites visual artist Bruce Nauman, best known for his vibrant neon signs, as a primary influence.
Place, of course, plays a role in any artist's developing identity — as Rhedin puts it, "it makes sense to me that you have Red Hot Chili Peppers from L.A., and No Doubt from San Diego, and Nirvana from Aberdeen." In the case of Dinner, Los Angeles has had a darkening effect.
Soon after moving to L.A., Rhedin worked as a commercial pop songwriter, a job he says made him feel like ripping off his clothes and running down the street, screaming. "I felt a stronger sense of not belonging than I usually feel," he recalls. "I like to compare it to black magic."
Where white magic would be used to help others, "black magic would be something you would do with only your benefit in mind. Those pop sessions were pretty much that. There's this undercurrent of evil, dark energy in Los Angeles, and I feel that pop songwriting in L.A. has that undercurrent of demonic energy."
To follow up the three EPs he's already released, Rhedin has a nearly finished Dinner full-length in the works, which is slated for release in October. "It's a little less lo-fi sounding," he says. Thematically, the record deals heavily with "communication with spirits or communion with God, whatever you want to call it" — something closely tied with Rhedin's decade-long practice of daily meditation. "This sounds super pretentious, but it's true nonetheless: I do sometimes meet what you could call spirit entities or fragments of the subconscious," he says, with a cautious matter-of-factness, as if he thinks he might sound a bit, well, L.A., but doesn't really care. "It's something that does not feel like myself. The communication with these entities or fragments of my psyche — whatever you want to call them — is definitely something that I find very related to music. For me, listening not to my thinking mind, but to these fragments of my subconscious, that's, I feel, what the creative process is about."
Which is not to say that he takes himself or his music too seriously. When making this record, "we recorded it in a studio that looked like ... if Coldplay built [its] own studio, it would look like that," he says with a laugh. "I'm not kidding you. There were three grand pianos, and one of them was the most expensive brand of pianos in the world. So we got our soft-rock vibes going."