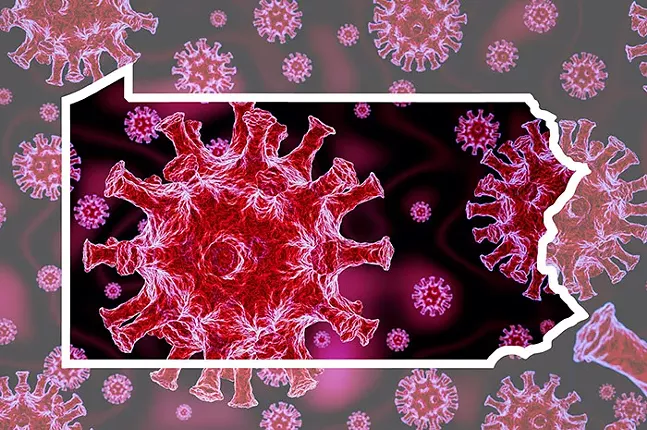 Allegheny County COVID-19 information as of March 25

Number of new positive cases in Allegheny County:
Number of new positive cases in Allegheny County:
64
Number of today's new
coronavirus deaths in
Allegheny County: 2
---
Total number of positive cases in Allegheny County: 262,805
Total number of hospitalized cases in Allegheny County: 13,144
Total number of confirmed deaths from COVID in Allegheny County: 3,231


Pennsylvania COVID-19 information as of March 25
Number of new positive cases in Pennsylvania: 600
Total number of positive cases in Pennsylvania:
2,777,986
Total number of confirmed coronavirus deaths in Pennsylvania:
44,180

Total number of Pennsylvania patients who have tested negative:
6,135,108

---
Total number of people in Pennsylvania fully vaccinated: 7,293,740
---
UPDATE — 2:05 p.m., Tue., June 30, 2020:
Today, Allegheny County added 109 coronavirus cases, the first time the county has ever added triple-digit cases and the highest single-day total since the start of the pandemic.
---

UPDATE — 12:00 p.m., Sat., June 27:
Allegheny County added 90 new coronavirus cases today, which is the highest single-day total the county has seen since the pandemic started in March. Of these new cases, 77% were of people ages 19 to 49 years old. Officials have said this week's spike in COVID-19 cases is linked primarily to people traveling from out of the area, and people visiting bars and restaurants.
---

UPDATE — 12:00 p.m., Fri., June 26:
Allegheny County added 61 new coronavirus cases today, which is the second highest single-day total the county has seen since the pandemic started in March. Allegheny County hasn't seen new case numbers this high since April. Since Monday, the county has seen 207 coronavirus cases. That's an average of about 41 cases a day over the last five days. This is more than triple the average daily cases the county was experiencing over the last few weeks prior to June 22.
On June 22, Allegheny County officials said that contact-tracing showed most of the new cases were
traced to people who patronized restaurants and bars
, and for people who recently traveled out of the region and state.
It's been
three weeks since Allegheny County moved into green phase
, which allowed restaurants and bars to open their dining rooms at 50% capacity. However,
reports indicate that some restaurants are filling dining rooms
beyond that capacity limit.
---
UPDATE — 12:00 p.m., Mon., June 22:
Because of today's increase of 45 new cases in Allegheny County, which is the biggest jump in the daily coronavirus cases in weeks, Allegheny County Executive Rich Fitzgerald will be holding a press briefing with the county health director to elaborate on what steps county residents need to take in order to stem any potential spread of COVID-19. "The purpose of the briefing is to provide information on recent cases and steps the community needs to take to ensure that numbers do not continue to increase at this rate," reads a tweet from the Allegheny County Health Department Twitter account.
---
UPDATE — 1:30 p.m., Sun., June 14:
For the last two weeks, new coronavirus cases in Pennsylvania have been in stark decline. Pennsylvania's decline in cases is mirrored by many other states in the Northeast, even as states in the South, the West, and Southwest have seen spikes in new cases.
Today, Pennsylvania added 336 new cases, down 127 compared to yesterday's new case statewide total. Also, Allegheny County only saw three new COVID-19 cases today. As of June 12, the majority of Pennsylvania counties were in the
green phase
of Gov. Tom Wolf's reopen plan. Forty-six counties, including all of
Southwestern Pennsylvania is under the green phase
, and 21 other counties are still under yellow.
Rising and Falling New Coronavirus Cases in USA • #COVID19 pic.twitter.com/Z7EthuLd5h

— Dr. Liliana N. Fargo (@honestlycorrect) June 13, 2020
---

UPDATE — 12:15 p.m., Tue., April 7:

Over the weekend, the number of new cases were starting to decrease in Allegheny County and Pennsylvania, but today marked another increase in new cases in both the county and the state. It appears that Pennsylvania and Allegheny County have not reached the peak in their respective coronavirus curves. Allegheny County also recorded two new deaths since yesterday, and the state recorded 78 new deaths. There are now positive coronarvirus cases in all 67 Pennsylvania counties.
National experts, such as Nate Silver, said to wait until Tuesday to make judgements on how we are doing, given some issues with weekend data.

It was prescient: The slight decrease in the rate of new cases over the weekend in Pennsylvania, didn't hold: https://t.co/6qTrLl5szM pic.twitter.com/0NnJmuFvNX

— Oliver Morrison (@ORMorrison) April 7, 2020
---

UPDATE — 12:30 p.m., Tue., March 31
Health experts are advising people to start looking at the amount of hospitalizations related to coronavirus as a metric of how hard the virus is hitting some areas. As of today in Allegheny County, 51 people who have tested positive for COVID-19 have been hospitalized. That's a rate of about 15% being hospitalized among positive coronavirus cases in the county.
This is the COVID-19 Daily Update for March 31, 2020. A map which shows where individuals with confirmed COVID-19 reside is available at https://t.co/rtErjhSYSG. The department is working on making other information available publicly. pic.twitter.com/8yqA56Ae4F

— Allegheny County Health Department (@HealthAllegheny) March 31, 2020
According to the state health department, as of today, 42,488 people have been tested for coronavirus throughout Pennsylvania. That includes the 4,843 who have tested positive and 37,645 who have tested negative. Compared to the most recently state population estimates, these figures show that only about 0.3% of Pennsylvania's population have been tested for COVID-19. However, reports indicate that private testing facilities may have some delays in providing negative-result data to the state. So, the numbers on total tests might be deflated.
As of today, the rate of positive cases among those tested is about 11% in Pennsylvania.
---
UPDATE — 2:00 p.m., Sat., March 28:
The Allegheny County Health Department has released the age and gender breakdowns of positive coronavirus cases in the county. The information is shown in the graphic below. There have been 31 hospitalizations in Allegheny County related to COVID-19 so far.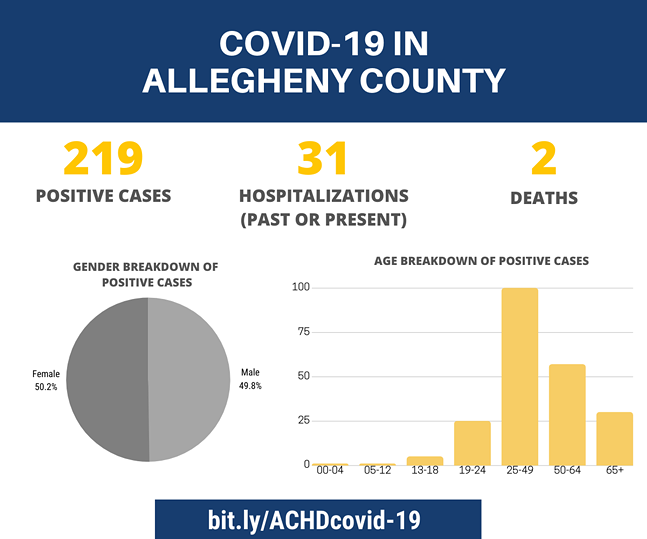 UPDATE — 12:30 p.m., Thu., March 26:
Allegheny County has started to document the age breakdown of its positive coronavirus cases. Of the 133 now confirmed positive cases, 52 have been of people between the ages of 25-49. This age group represents about 39% of the county's cases. But, 55 people ages 50 or older have tested positive for COVID-19, and that represents 41% of the positive cases. Young people have not been immune to positive tests, as 26 people ages 24 or young have tested positive, including a child between the ages of 0-4.
---
UPDATE — 12:00 p.m., Tue., March 24:
According to the Allegheny County Health Department, a second person has died in the county due to COVID-19, the disease that is caused by coronavirus.
The deceased was a woman in her late 70s. According to a statement, "this person's positive status was not known until after the death."
There was no documentation of her recently traveling, but, according to the county, she did have other health issues that may have delayed recognition of COVID-19. Medics who responded to a 9-1-1 call wore protective equipment. According to Allegheny County officials, the woman was declared deceased at the scene, but because of the symptoms that were reported she was tested for coronavirus.
The county health department has begun contact tracing based on information from the family of the deceased. Those family members have also been placed into self-isolation.
"We extend our deepest sympathies to the family and friends of this individual on their loss," reads a statement from the health department.
---
UPDATE — 12:00 p.m., Sat., March 21
:
There is now one confirmed death from coronavirus in Allegheny County.
The death was an adult resident, the second death in Pennsylvania caused by the virus.
"Each day we tell you how important it is to stay calm, stay home, and stay safe
," said
Secretary of Health Dr. Rachel Levine in a live-streamed press conference. "
This is more than just a catchy phrase.
This virus is deadly, and we need to practice social distancing to minimize its spread and its impact."


---

Our original story, first posted on March 13 with an update on March 14, is below:
On March 14, the Allegheny County Health Department confirmed its first two COVID-19 cases in Allegheny County, according to a press release. The individuals, one in their 70s and the other in their 60s. Both residents live in the same household and are believed to have contacted it through out-of-state travel. Allegheny County Department of Health director Debra Bogen said they will be identifying people who have been in close contact with the two residents.
Central Outreach Wellness Center
, through a partnership with Quest Diagnostics, is offering drive-by testing for coronavirus at their North Side location at 127 Anderson Street. According to a press release from Dr. Stacy Lane, only people who present symptoms of dry cough and fever will be tested at this time. Those who do should have photo ID and a copy of their insurance card. Testing is limited to 100 at this time.
There are now 27 positive cases of COVID-19 in Allegheny County. Of those, five individuals are hospitalized with the remainder in self-isolation at home. Contact tracing, including information gathering, on these cases continues. pic.twitter.com/mD8Zsrctbu

— Allegheny County Health Department (@HealthAllegheny) March 20, 2020
Fitzgerald had already declared a state of emergency for Allegheny County in response to the coronavirus earlier this week. President Donald Trump declared a state of emergency for the entire U.S. on March 13.
According to the Pennsylvania Department of Health, three confirmed or presumptive positive case of coronavirus have hit Washington County, just south of Pittsburgh. Beaver County has three cases. Westermoreland County now has four positive cases.
"While we anticipate that there will be more Pennsylvanians with COVID-19 in the coming days and weeks, it is important for residents to know the commonwealth is prepared and to be prepared themselves," said Pennsylvania Health Secretary Dr. Levine in a Sunday press release. "Right now, you have a higher chance of testing positive for COVID-19 if you have traveled to a country or state with known community outbreaks or have come in contact with someone who has the virus. We are working with the health care community across Pennsylvania to keep them informed, consult on patient testing and ensuring they have the resources they need to care for patients."
On March 11, the World Health Organization deemed coronavirus, which causes the disease
COVID-19
, a global pandemic and confirmed that cases have grown exponentially in countries like Italy, China, South Korea, and others.
Experts expect confirmed cases to grow in the U.S. as well. The virus has infected hundreds of thousands of people worldwide and resulted in thousands of deaths, primarily seniors.
The discovery of western Pennsylvania's first case in Washington County coincided with Pittsburgh Mayor Bill Peduto declaring a state of emergency for the city, which will begin Monday morning, March 16. The White House is not saying that gatherings should be limited to 10 people or less throughout the U.S.
Dozens of events in the area have canceled
over concerns about spreading the coronavirus. According to UPMC, the large regional hospital has developed a test for coronavirus and patients tested at UPMC facilities should be able to know if they have the virus within 24 hours of testing.
They developed a test for the virus. Folks will be able to know within 24 hours. https://t.co/llP9MqEumq

— Ariel Worthy (@airreeulll) March 14, 2020