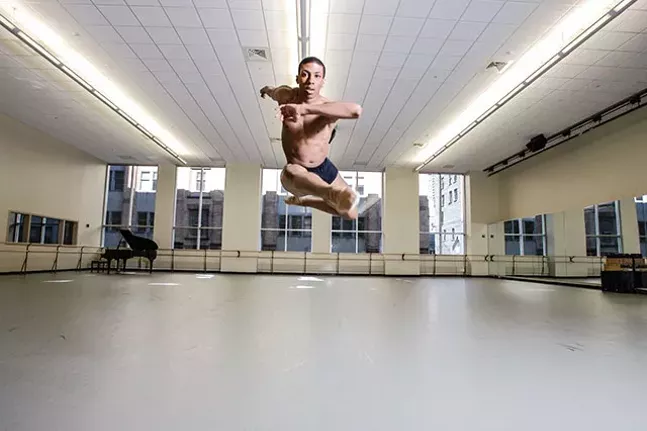 In the era of the "staycation," many parents are looking to apply that concept to their child's summer dance education by staying close to home.
For more than 30 years, Point Park University's International Summer Dance program (ISD) has been a destination for more than 200 dance students ages 10 and older from across the country and the globe. The multifaceted, multidisciplinary program is a plum choice for locals looking for quality dance training in their own backyard.
With admittance by audition-only, ISD, running June 17- July 27, is a three or six-week program that offers students specialized dance training in everything from ballet, tap, jazz and modern to voice, acting, yoga, and Pilates. The classes take place at Point Park's state of the art Downtown studios, taught by nationally and internationally recognized teaching artists, choreographers, and directors. Some classes include live musical accompaniment.
"What separates our program from so many others is it is so well-rounded," says ISD artistic director, Susan Stowe. "The mix of technique classes in dance, voice, and acting make our students a triple threat and I see that as making them employable in the future."
Students attending the full summer session also have the opportunity to perform in program-ending, public dance showcases, something not offered by many summer dance programs. In addition, students can partake in specialty seminars on health and extra-curricular activities such as organized trips to Kennywood or the Pittsburgh CLO.
For the college-minded high school junior or senior, there is also the opportunity to audition for artistic admittance to Point Park's Conservatory of Dance.
"We have had hundreds of kids come through the summer program, love it, and then matriculate into the university dance program," says Stowe. "Some of them have come back as teachers for the summer program."
One such student-turned-teacher is Pittsburgh-native Michael Caye, who attended the program for four summers beginning at age 10.
"The special thing about Point Park's summer program is that you get a variety of teachers every week," says Caye. "Each week is like a clean slate, with new techniques for every dance style."
Caye, a dancer with Nevada Ballet Theatre, says he learned to take risks in his training during the ISD. "They told me to jump higher, spin faster, and to always push myself."
Buenos Aires, Argentina-native and former Washington Ballet dancer Lucas Segovia tells of similar growth during his two summers in the ISD program.
"I took my first ballet lesson ever at Point Park at age 16," says Segovia. "I learned the value of classical technique, rehearsal professionalism, the care of the body as an instrument and of the dedication of my teachers who have devoted their entire lives to this art form. It was truly life-changing for me."
With the option to commute to classes or, for students 16 and older, to live on campus, the ISD program's fees range from $1400 for a three-week commuter session to $5600 for a six-week session with room and board. A special two-week summer dance workshop option is also available.
In-person auditions for ISD 2020 take place in April and March in Pittsburgh and locations across the country. Prospective students can also audition via DVD, YouTube, or Vimeo.