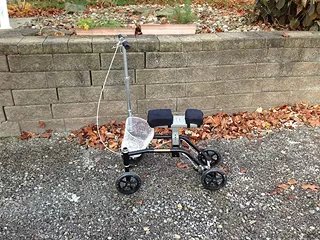 Sometimes we don't realize the day-to-day struggles of others until we find ourselves in the same predicament.
I grew up with a disabled father, who battled multiple sclerosis for nearly 30 years before passing away in 2000. I saw early on how difficult the simplest tasks — like buttoning a shirt or tying a shoe — could be. He spent many years in and out of wheelchairs or walking with a cane
At a very early age, I helped out where I could. But what I remember most is how other people went out of their way to help.
My dad always walked or wheeled himself around town, and never worried about getting stuck or stranded. "If I need help, someone will help me," he'd tell my mom as he'd take off on one of his walks. Countless times a stranger's car would pull up in front of our house and my dad would get out. He didn't have the strength to walk back home and someone, whether he knew them or not, would always give him a lift.
Strangers would often help lift my dad's wheelchair over a curb or give up their seats for him. And those gestures — like giving up your seat for an elderly person or pregnant woman — were natural for people
But times have changed. I realize this not only because of my father, but also because of my own experiences with mobility issues. On Labor Day 2013, I ruptured my right Achilles tendon, had it surgically repaired and spent months in a boot — at times unable to bear any weight on the leg. I used crutches, a walker and, at times, a gadget known as a knee scooter — a device like a child's kick scooter, with a platform to support the injured leg.
It took five months of rehab to get the leg working properly. Then, in July of this year, I ruptured the left Achilles tendon — the sort of serial rupture that my orthopedic surgeon assured me happens "more often than you think." After surgery and the first round of physical therapy, I'm once again walking without a boot and continuing with rehab
That's the plus side of my experience — my mobility issues were temporary. But I now realize that people living with disabilities today aren't experiencing the level of kindness and respect that allowed my father to live the life he wanted
For several months after my first injury, I relied on public transportation to get to and from work. I would ride a bus to the Heinz Field T stop and then kick my scooter from the Wood Street Station to my office a few blocks away. Too often, I stood on the bus or train — one leg on the floor and one leg on my scooter — holding on for dear life
One evening during rush hour, I tried to board a packed train at Wood Street. People ran around me to board the car first. Not only was I not offered a seat, I couldn't get my scooter on the train. The doors closed several times on my leg before I yelled like a maniac, put my head down and drove my way into the herd
In the past 14 months, I've had many experiences like that, and I've also often seen it happening to others — people for whom living with and traversing our city with a disability is a major part of their lives. For these folks, dealing with inconsiderate commuters on a bus or trying to get from point A to point B in a wheelchair on a sidewalk that is barely fit to walk on is a daily struggle
It's our job as a community to respectfully lend a hand when needed. The person might not want your seat or need a hand up on the sidewalk, but it's important to ask. It's also important, if you see poor infrastructure like a broken sidewalk, to report it to the mayor's 311 line so it can be addressed.
Making Pittsburgh truly accessible for all isn't just about adding curb-cuts and ramps. It's about common courtesy, offering a hand and, most importantly, watching out for each other.