In 1973, acclaimed fashion columnist and editor Diana Vreeland became a Special Consultant to the Costume Institute at the Metropolitan Museum of Art. There, she single-handedly transformed the rarified world of costume display into high art. Her keen eye and her sense of drama and style were part of her persona, one that she cultivated in her illustrious careers at Harper's Bazaar and Vogue. Vreeland is a mythic figure whose own life story is a blend of fact and fiction. "Faction," as she called it, is a perfect word for the mythology that suffuses the cult of celebrity.
And who was better at that game than Andy Warhol? What Vreeland and Warhol had in common, besides their unflagging energy in both their work and social lives, was their ability to understand the power of fantasy and iconography. And while their social circles inevitably intersected, in the Andy Warhol Museum exhibit Halston and Warhol: Silver and Suede, there is only one picture of Vreeland. In it, she is seated with the pioneer dancer and choreographer Martha Graham. This black-and-white photograph forms an inadvertent bookend to the exhibition.
The show begins with a comprehensive timeline that focuses on the parallels and intersections between the lives of Warhol and Roy Halston Frowick, later known just by his middle name. (The exhibit is curated by Halston's niece, Lesley Frowick, in collaboration with The Warhol.) That timeline, in turn, begins in the early 1960s, when Halston and Warhol knew each other but were not yet friends and collaborators.
It was Vreeland who, in 1961, chose Halston, a prominent milliner at Bergdorf Goodman, to help with Jackie Kennedy's inaugural wardrobe. Her cloth coat and pillbox hat changed fashion history. And it is here that the story of Halston and Warhol begins, with that famous hat next to a grid of 16 iconic Warhol Jackies.
Early examples of illustrations by both Warhol and Halston also fill this first gallery, along with a number of other Halston hats. But the real treat here is the velvet gown with mink trim and bunny mask designed by Halston and worn by Candice Bergen to Truman Capote's celebrated Black and White Ball. This is probably the only piece of clothing in the show that can hold its own on a mannequin. Halston was an expert at cut and drape, but his clothes look best in motion. Thankfully, the exhibition includes videos of runway shows where his models sashay and strut in his luxuriously sensuous and shimmery clothes.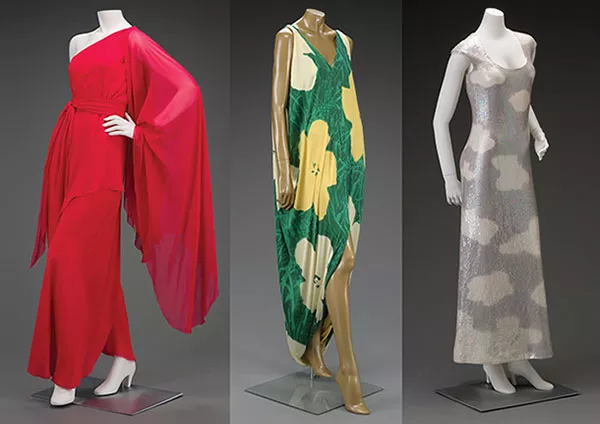 Halston came along when lifestyles and attitudes were changing and he brought a new American simplicity to clothing at a time when women wanted comfortable, chic and modern clothes that were easy to care for.
In 1972, Warhol and Halston officially collaborated for the first time. Warhol created a "happening" for Halston's design show at the Coty American Fashion Critics' Awards. Shortly thereafter, Warhol's signature flowers appeared on a Halston evening dress. In 1979, Halston was the subject of an episode of Warhol's Fashion TV and in 1982 Warhol did an ad campaign for Halston Menswear.
But apart from these formal collaborations, Warhol and Halston clearly benefitted from their close friendship. Their work and their social lives intertwined and the exhibition demonstrates this throughout. Surrounding the clothing are paintings by Warhol, including portraits of Halston, Liza Minnelli and Mao. And there are Warhol Polaroids of Halston as well as other key figures of the era, such as Martha Graham and Diane von Fürstenberg. Photographs show celebrities at Studio 54 and friends at Montauk. Items from Warhol's time capsules include telegrams and invitations. The exhibition sheds light on two American originals, equally ambitious and innovative, and both attuned to and inseparable from a period of freedom, experimentation and excess.
While Halston was the first American celebrity couturier, he is not as recognized today as Warhol. As the first designer to realize the potential of licensing and branding, he inevitably lost control of his own name.
It is fitting that this show is taking place almost simultaneously with Charles James: Beyond Fashion, at The Metropolitan Museum of Art. Considered to be America's first couturier, James fell into obscurity at the end of his life; by 1978, he was known to only a handful of devotees, one of whom was Halston. But in 1975, James had accused Halston of plagiarism, and he also railed against Vreeland, who he believed was purposely ignoring him at Vogue and then at the Costume Institute. Even as these two great fashion designers get their due, the mythologies surrounding them endure. Fact? Fiction? Faction.